Yu Zheng's (于正) latest costume drama, "Song of Youth" (玉楼春), aired on July 26. The drama is set during the Ming Dynasty and stars Bai Lu (白鹿), Jin Chen (金晨), and Wang Yizhe (王一哲). Since the drama aired, there were some Korean and Japanese comments on Youtube saying the hanfu worn by Bai Lu in the drama is actually a hanbok. Some of the comments said, "This is a hanbok!", "Don't Chinese people have its own clothing?", "Really stealing Korean clothing", and more.
The plethora of comments even led to Bai Lu to respond to the debate on Weibo, saying, "This is China's!" with a Chinese flag and the hashtag, "Song of Youth Korean comments". Wang Yizhe also responded, "This is China's! China's! China's!" and also included the hashtag"Song of Youth Korean comments".
However, some Chinese netizens started suspecting whether these foreign comments were even real comments made by Korean netizens. They noticed there were no likes on these Korean comments and the use of the language wasn't proper. They suspected these weren't real Korean comments as a lot of the usernames were not Korean. Netizens started accusing this was a method used by the production team to hype up the series and saying, it was "Self-directed, self-written, and self-acted".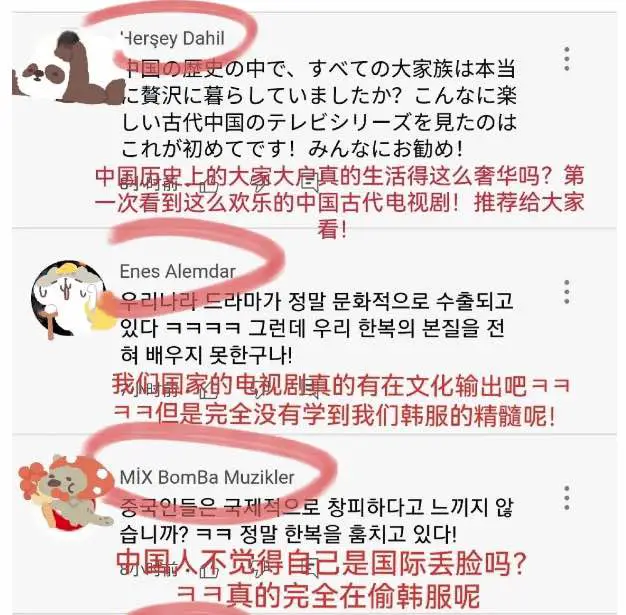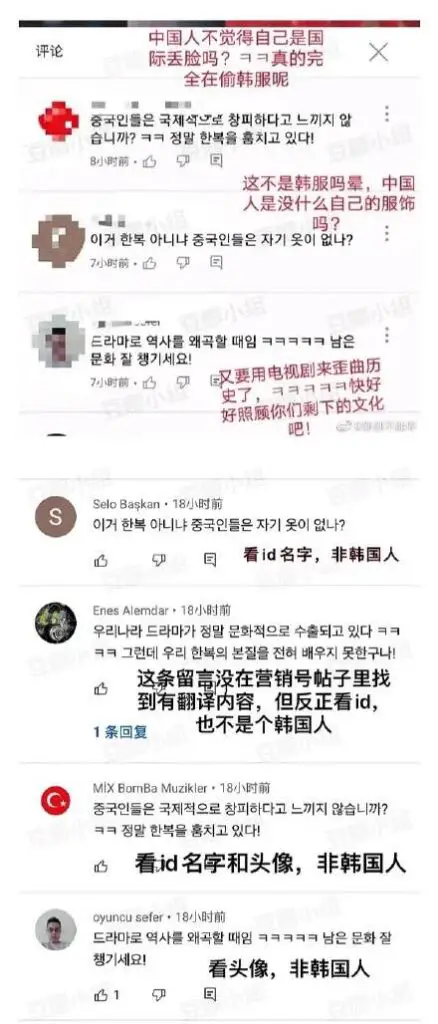 Yu Zheng, the producer of the series, denied the accusations that they were using these false comments to hype up the series. On July 28, he left a comment on his post, saying, "Regarding #SongofYouthKoreanComments, I have to say the following points, 1: If we really wanted to hype it up, is it necessary to use a machine translation? Can't we find a person? I have a lot of Korean friends, can I really do such a thing full of mistakes? Especially let people gossiping around and annoy ourselves? 2: We only saw drama being stirred up and we couldn't help but clarify it. Don't tell me everybody thinks they should be silent when your drama's clothing is said to be not from China. Everyone has intellect. Don't be taken advantage by bad people."