Back on August 10, Myolie Wu's (胡杏兒) husband, Philip Lee (李乘德), had responded to a netizen attacking him for being a "soft rice king" and allowing his wife to work while she was pregnant and brought their son, Ryan, to work with her in mainland China. Philip Lee gave a very high EQ response, but that didn't stop Myolie Wu from defending her husband in a lengthy English comment that she posted on his post.

However, Chinese netizens noticed Myolie Wu used "China" instead of "mainland", when referring to her traveling from Hong Kong to mainland China for work. They felt Myolie Wu was intentionally categorizing Hong Kong and China as two separate regions. They left comments on her latest Weibo post reminding her to be cognizant with her choice of words.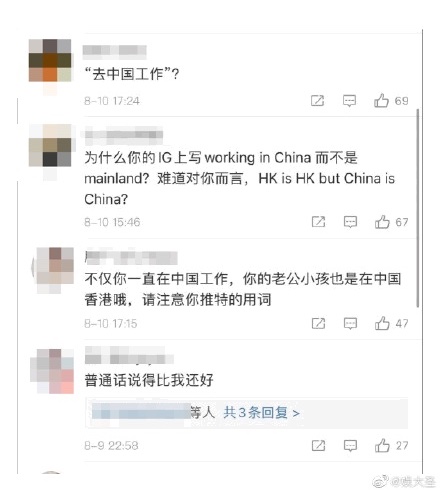 Chinese netizens have also noticed she used "China" instead of "mainland" on a previous occasion when referring to her working in mainland China. They also pointed out that on October 1, which is the National Day of the People's Republic of China, Myolie Wu only posted about the Mid-Autumn Festival that day.
Due to the backlash, Philip Lee has already deleted his original post containing Myolie Wu's lengthy response.