Ever since Myolie Wu (胡杏兒) and her husband, Philip Lee (李乘德), went public with their relationship, the media has always emphasized that she was the breadwinner in their relationship and she was superior to him. Philip Lee owns a recruiting company and runs a bar. After getting married and having three children, Myolie Wu continues to work and even traveled to mainland China with their second son, Ryan, and while pregnant with their third son, Liam, for a period of time. During this time, Philip Lee stayed in Hong Kong to take care of their eldest son, Brendan.
Philip Lee recently shared a photo of his two elder sons playing in the rain. A netizen left a comment saying, "You are really the soft rice king of the century, more powerful than Benjamin Yuen. Taking care of your sons and having fun everyday while your wife has to work hard filming dramas in the mainland before and after giving birth. So sad. It's sadder than being a baby machine, have to give birth and work hard for a living. What happened to your bar?" A soft rice king is Cantonese slang to refer to a man who depends on a woman for financial support.
Philip Lee responded, "Thanks for your concern. Maybe you don't know, I've worked diligently for decades now. I have a few companies now. My team isn't that big, only a few tens of people. With our hard work, this year's businesses were not bad, allowed me to spend a little time with my friend. Family and children are the most important. I hope you understand. The bar is still here. Thanks for your concern. Come for a drink when you're free, my treat. Wishing you health and happiness."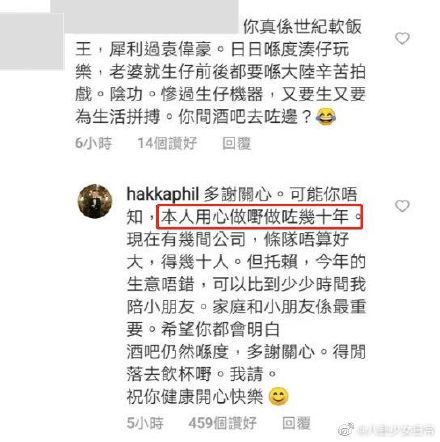 Myolie Wu defended Philip Lee in a lengthy English comment she left on the post. Philip Lee also responded.
Credit: Myolie Wu IG