Chinese singer, Huo Zun (霍尊), was the center of a dating scandal when a dancer by the name of Chen Lu (陈露) posted a picture of them on Weibo and included a heart emoji on August 8. Netizens thought they were announcing their relationship. However, after a whole day, Huo Zun didn't respond to Chen Lu's post. So on August 10, Chen Lu issued a lengthy post detailing her 9 year relationship with Huo Zun.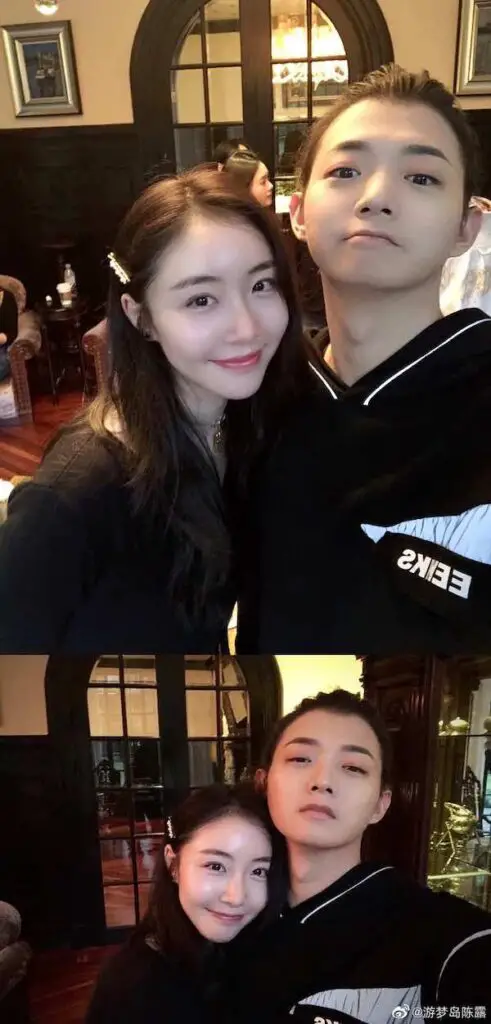 Chen Lu revealed they started dating in 2012. She said it was love at first sight for her and that Huo Zun would be her future husband. She stuck by him when they were "nobodies" at the time. When things started to look up for Huo Zun, Chen Lu said she resigned from her role touring with the performance arts institute and set up a small studio to earn a little more money and help relieve some stress from Huo Zun.
Many people told Chen Lu she was crazy for giving up her job as the youngest senior deputy dance instructor in their dance troupe and also being a a second level national performer. These were her prime years as a dancer. However, Chen Lu said she never had much aspirations. Her dream was to marry Huo Zun and have their own family. She even had their children's names picked out.
In 2017, Chen Lu and Huo Zun were spotted by netizens and a popular paparazzo at the time, Zuo Wei, and pictures of them were released online. Chen Lu thought this was the first step in disclosing their relationship, but instead, Huo Zun asked her to delete all posts related to him and to unfollow each other.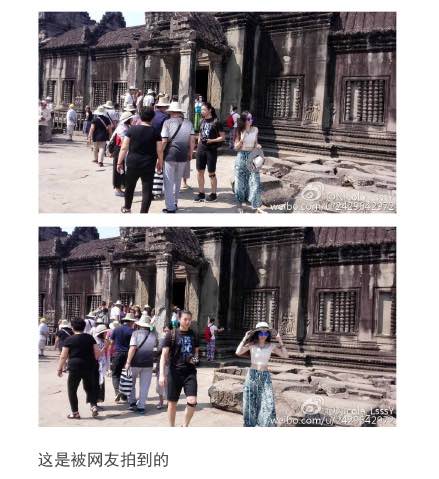 Chen Lu eventually convinced herself that all they were doing was for their future. She had rejected many offers to go on variety shows in the past few years. When Zuo Wei released their pictures, Chen Lu was cyber bullied and received many insulting messages calling her "cheap", "ugly", "opportunistic", and more.
During their 9 years together, Chen Lu said she only wore clothes from Taobao while she spent money to get Huo Zun nice clothes and a nicer watch within her budget because he needed to go on shows and look the part. She worried about Huo Zun's health as he often catches a cold and has fevers, so she also spent money buying him supplements.
When Huo Zun started gaining some popularity, they were ready to buy a small home, but his mother suddenly demanded that he buy a mansion for her. Huo Zun told Chen Lu that he had to repay his parents' kindness for raising him. Chen Lu knew that Huo Zun buying a home for his parents meant that her dream of having their wedding abode was that much further, but she told him that she understands and can wait.
Last year, Huo Zun said to Chen Lu that they should settle down, go see homes, and go ring shopping. However, they didn't buy a home, didn't buy a ring, nor did he propose. As it turns out, when Huo Zun brought Chen Lu ring shipping, he was also devising a plan with his friend on how to make Chen Lu initiate the breakup with him.

Chen Lu claims Huo Zun said these things:

"I really don't have any feelings for Lulu anymore, but with my identity, I can't just initiate the breakup."
"I think I can find someone even better."
"With my status in society today, it's a type of gift to her that I am still with her."
Chen Lu also alleged Huo Zun was flirting with everyone around him. He would laugh about her with his friends and started saying she is good for nothing and ignorant. Huo Zun reportedly started hurting himself and was getting violent. He eventually ghosted her.
Huo Zun's friends started telling Chen Lu that his condition was very bad, he was very sad, and was often crying. They told her he would return soon. So while Huo Zun was "dumped by his fiancé and was crying backstage", Chen Lu said he was really dating his new "girlfriends", watching movies, and planing their futures.
After "breaking up" less than a month, Chen Lu said the new mistress of the house had moved into the home that she found for her and Huo Zun. Chen Lu then says all of Huo Zun's f*ck buddies think they are his girlfriend. While Huo Zun is acting hurt and lovingly, Chen Lu say's he is also talking to others about how nice a girl's legs are or who he will be hooking up with that night.

For her birthday this year, Chen Lu revealed a picture she took with a friend was leaked. They were holding balloons with a heart drawn on them, which were given to them by one of Huo Zun's friends. Chen Lu later realized this was just one of the Huo Zun's tactics.
Chen Lu still set out hope that she was getting married with Huo Zun. She even went to dress fittings. However, it wasn't until a mutual friend showed her all the receipts ( screenshots, texts, etc.) that Chen Lu finally woke up. When Chen Lu approached Huo Zun about the information, he reportedly told her, "Name a price." Lu said she didn't want money, but when Huo Zun offered to transfer 3 million RMB to her she then told him she wanted 9 million RMB. She didn't think he would accept it as she estimates that's all the money he had at the time, but he actually agreed to it right way. Friends had urged her to let it go, but Chen Lu said she spent at least 2-3 million RMB on him all these years and that Huo Zun promised to buy her a newlywed home, so she said to treat this sum as paying her back.
In exchange for the money, Chen Lu had to sign an agreement. After the signing, one of Huo Zun's female friends got Chen Lu to meet him at her home under the guise of consoling her. She was met with a lawyer that threatened and intimidated her for 5-6 hours so that she would automatically give up on the agreement and delete all the dirt she had on him.
In the end, Chen Lu said she decided not to release the dirt and the screenshots not because of the agreement, but because Huo Zun had already violated it early on, rendering it invalid. She didn't want to release all of that because she respected their 9 years together and also the Huo Zun whom she once loved before.
On August 11, Chen Lu's friend, Wang Meng (王萌), issued a lengthy post to corroborate Chen Lu's story. She revealed that after they signed the agreement, Huo Zun didn't pay the agreed amount of 9 million RMB. She also detailed the lawyer used disgraced actor, Wu Xiaobo's case, to threaten Chen Lu that the "breakup agreement" she signed with Huo Zun already constitutes as blackmail and extortion. He said that amount could already send her to prison for 10 years.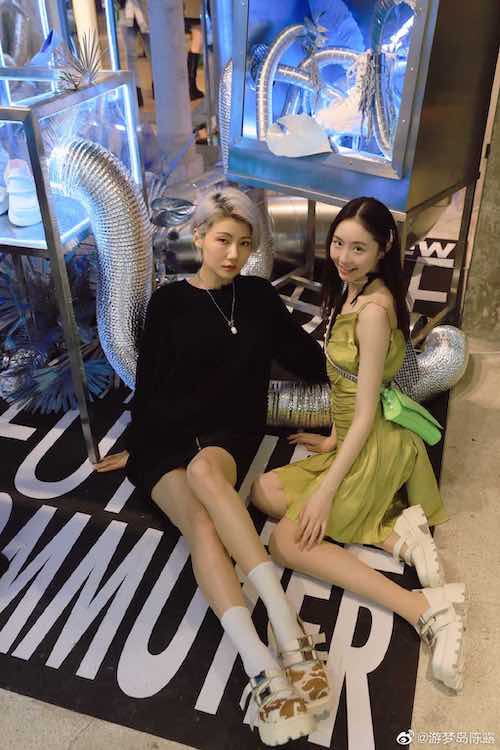 On the same day, Huo Zun's studio posted a handwritten note he wrote. Huo Zun apologized for not responding to the matter immediately. He admitted to dating Chen Lu from May 2013 to September 2020. He also said all that Chen Lu said is not her original intentions, but he could understand it. In closing, he said, "The words said when we parted, I'll say it once more: hope we are both happy."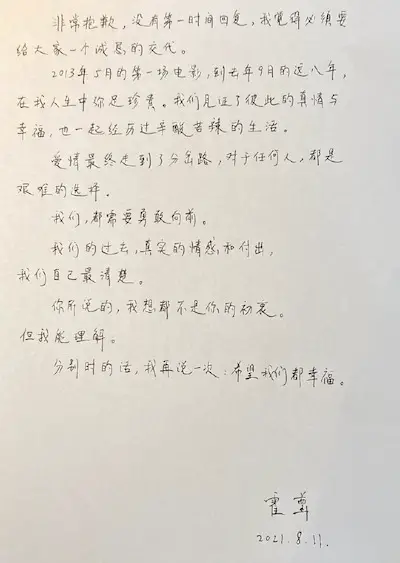 Chen Lu responded to Huo Zun's apology on August 12. She shared screenshots of conversations she had with Huo Zun and also a picture suspected to be of her wearing a Harry Winston ring. The screenshots revealed Huo Zun had allegedly once said he is an extremist. He also said, "Women should look like women. If she looks like this X way, I will beat her to death."
There is also a chat showing Huo Zun allegedly bragging in a group chat that he and a female guitarist had dinner after filming a show. They later went to a private movie theatre and had sex. He also told them he always has condoms on him nowadays, "The previous day, I did it 3 times in one night."
Huo Zun also reportedly told Chen Lu last year that when he first got the invitation to go on MangoTV's "Call Me By Fire" (披荆斩棘的哥哥), he had despised it as he felt shows like "Sisters Who Make Waves" would bring him down, "I am such a special musician, artist.", "They're creating a huiguorou idol group". He also reportedly badmouthed other singers calling them garbage.
The first episode of "Call Me By Fire" aired on August 12. Later that day, the show announced that after talking things over, Huo Zun would be withdrawing recording for the later episodes. Huo Zun's other show, "Boxing Battle" (拳力以赴的我们), also issued a statement on the same day saying that after discussing it, Huo Zun is withdrawing recording for the show due to personal reasons.
Later that night, a screenshot was circulating of what seemed to be Huo Zun's update on WeChat Moments. Huo Zun started off saying, "Just right now, I've lost everything.", "I didn't do anything. I really didn't do anything, and never hooked up with anyone either.", "What exists is the guilt towards a past relationship and a girl I deeply love right now."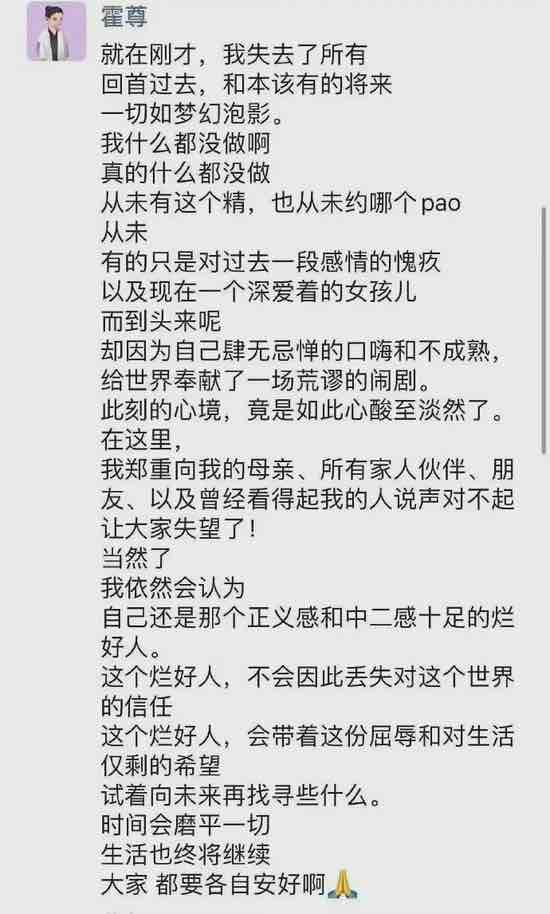 On August 13, Chen Lu posted once again saying that she is currently safe and staying at a friend's place. On the day she was threatened, Chen Lu said she never thought about reconciling with Huo Zun. From beginning to end, she only wanted an explanation, a sincere apology, and a proper finish.