On August 19, rumors started circulating between Zhou Ye (周也) and Lai Kuanlin (賴冠霖) after a yxh account (marketing account) claimed they had met up for four days during a livestream. They also claimed Zhou Ye and Lai Kuanlin used their staff members to cover up their tracks. This yxh account, Zhang Xiaohan, was the same person who used a comic strip to narrate a storyline about an A-List male celebrity that dated a fan for two years and then ghosted her. That rumor was immediately debunked.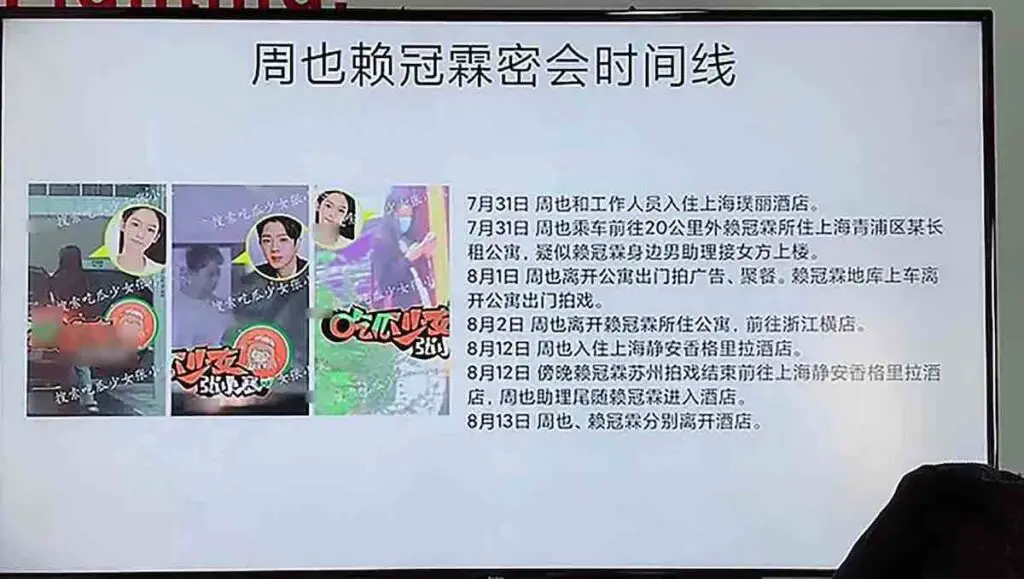 During her livestream, Zhang Xiaohan claims they met up on these four occasions:
July 31:
Zhou Ye and her staff member checked into the Rosewood Hotel in Shanghai. Afterwards, they drove to Lai Kuanlin's apartment that was 20 km away. Someone suspected to be Lai Kuanlin's assistant picked up Zhou Ye and brought her upstairs to his apartment.

August 1:
Zhou Ye left Lai Kuanlin's apartment to film a commercial and attend a gathering. Lai Kuanlin leaves his apartment from the underground parking lot to go film.
August 2:
Zhou Ye leaves Lai Kuanlin's apartment and heads for Zhejiang Hengdian.

August 12:
Zhou Ye checked into the Jing An Shangri-la Hotel in Shanghai.
In the evening, Lai Kuanlin finished filming in Suzhou and headed towards the Jing An Shangri-la Hotel in Shanghai. Zhou Ye's assistant was seen following Lai Kuanlin enter the hotel.

August 13:
Zhou Ye and Lai Kuanlin left the hotel separately.
Full Video: https://weibo.com/3200673035/KubsA2lvo?refer_flag=1001030103_

Zhou Ye and Lai Kuanlin are never spotted in the same frame or seen together. Sina Entertainment reached out to both parties, but they haven't responded to the rumors. Zhou Ye and Lai Kuanlin met on the variety show, "50km Taohuawu" (五十公里桃花坞). Their CP name is reportedly, "Coconut Milk Ice Cream" (椰奶冰淇霖), which includes their names, "Ye" and "Lin".
After the dating rumors went viral, a netizen recounted back to an episode of "50km Taohuawu" in which Zhou Ye helped Lai Kuanlin put on an apron while Meng Ziyi (孟子义) was watching on the side. She had once said to Lai Kuanlin while they were playing games that if he and Zhou Ye got together and he still has such a strong desire to win, she feels he is a bit thoughtless.