The debut of new boy band, "Panda Boys", caused quite the uproar as all the members are children with an average age of 8 years old. It's reported the members ages range from 7-11 years of age. When their debut was announced on August 20, many netizens were understandably against their debut and blamed their company for trying to exploit them for money.
The group's management company, Asia Starry Sky Group (ASE), addressed the backlash and said they aren't using the children as money making tools. They claimed they were producing the next generation of idols and stressed the members must study first before they train.
However, the heated scrutiny of this group fell into the purview of the government. On August 24, state run newspaper, Beijing Youth Daily, criticized the group's debut was "a type of child abuse" and that it's not breaking the law after going through "artistic packaging", which is coveted by parents and businesses. "While some methods are legal, but they aren't reasonable."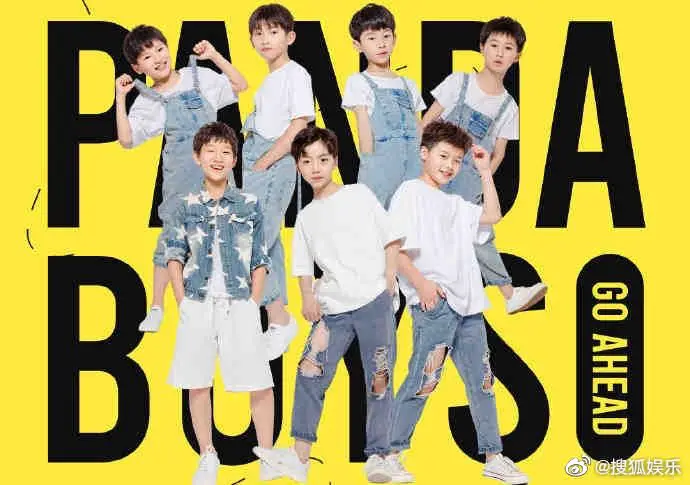 Shortly after that news article came out, ASE issued a statement that they were changing the Chinese name of Panda Boys from "天府少年团" (lit. Heavenly Place Youth Group) to "Panda Children's Art Troupe" (熊猫少儿艺术团), seemingly to distance themselves from being labeled as "idol group".
However, the past couple days have been tough with many scandals happening in the industry that led to the CAC (Cyberspace Administration of China) to issue new regulations to rid the internet of unhealthy fandom culture. As a result, ASE announced Panda Boys had disbanded on August 24, making it the most short-lived boy group in China as they debuted on August 20.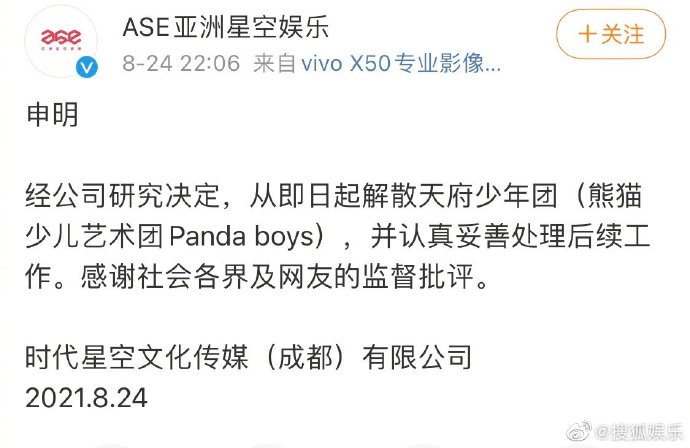 The company previously gave an interview about their recruitment process in which trainees as young as 5 years old can be selected. They only need basic literacy skills to debut as talents can be trained by the company. As long as the trainees are outstanding enough, they wouldn't charge money either.
The group's disbandment still garnered criticism from the largest state run newspaper, People's Daily, which said, "Debuted at 8 years old, they can't even recognize all vocabulary words and already started to recognize money. Rushing the youth's capital to be more mature, where did you think of cultivating their talent? You obviously only wanted to earn money. Eight year olds should be studying in the classroom, should be playing in the playground, and should be discovering the significance of childhood while growing up. Compared to debuting, this should be their path to take."
"Panda Boys" official Weibo account no longer exists and ASE's Weibo account has also been suspended from posting.