Episode 3 of "Street Dance of China 4" (这就是街舞4) aired on August 28. It was the qualifying round where 100 dancers battle for one of the 49 spots to advance to the next round. It was a tough session as this year contains some of the world's best renowned dancers and champions and contestants from previous seasons.
One of the highlights of this episode was the last performance from dancer, Colin. In his introduction, Colin said his performance was for everyone and "the person in his heart". Everyone thought he might've been talking about a love interest, which garnered a lot of ooh's and ahs from the captains and the crowd.
However, the song Colin danced to was Wang Leehom's "Luo Ye Gui Gen" (lit. fallen leaves return to its roots 落葉歸根). It was an emotional performance which included an audio clip from Colin's family member asking if he has arrived to Shanghai yet and if he was taking care of his health.
After the performance, Colin stepped away to release his emotions and tears. Colin explained the performance was not only to let that person in his heart to see his dance, but also about missing his family while he was away from home pursuing his dreams. He explained he would often get messages or calls from his family to visit them more often or to call them, but he is just too busy to even respond. His performance was also a salute to everyone that's away from their family pursuing their dreams and for them to keep chasing after them. Many of the dancers and the captains said they could relate to Colin's feelings.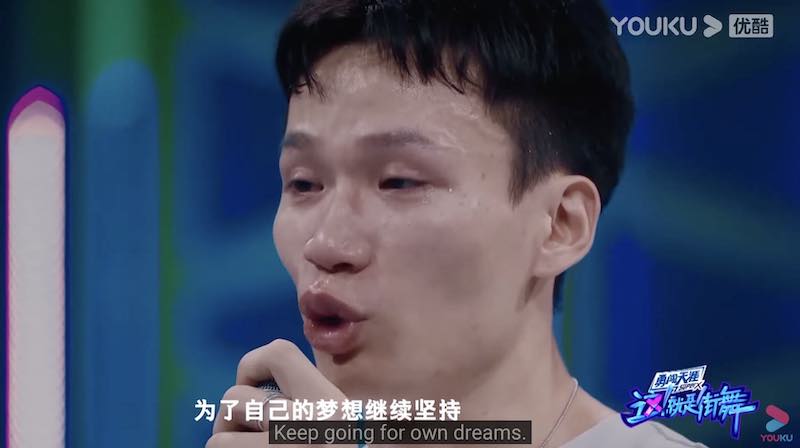 Unfortunately, only Wang Yibo (王一博) voted for him, which meant he was eliminated as he needs at least two votes for a chance to stay in the competition if someone were to challenge him. Lay Zhang (张艺兴) explained that while he was moved by the performance and complimented the choreography, he felt there might've been some balance issues and wasn't quite sure on the perspective he should use to judge the performance.
Han Geng (韩庚) said he related to Colin and was very touched and moved by the performance, but said they have their standards and felt the choreography could be even better.
Colin explained that he was just video chatting with his grandfather less than a month ago. Everything seemed fine and normal, but a day later, he received a message from his mother that his grandfather had passed.
Wang Yibo was visibly affected by Colin's performance. He was seen tearing throughout Colin's performance and while the other captains spoke.
Wang Yibo explained that he has a similar experience as Colin while he held back tears as he spoke. As he is working away from his family, he doesn't get to see his grandfather often. Wang Yibo has been away from his family since he was 13 and is always working and doesn't get to see his family back in Henan often.
Credit: Weibo (1)