On September 1, the Hong Kong police reported a man had sexual relations with a 14 year old girl at a hotel in Tsim Sha Tsui. After further investigations, the police reported on September 2 that they arrested a 24 year old male suspect with the surname Chan on suspicion for having "unlawful sexual intercourse with a girl under the age of 16".
Based on reports, the male suspect is an actor and appeared in a recent drama. This information piqued the interest and curiosity of netizens to figure out the suspect. Rumors started circulating that the suspect could be two TVB actors, Rio Chan (陳銳峰) and Daryl Chan (陳戩浩).
However, both Rio Chan and Daryl Chan have debunked the rumors through IG Story. Rio Chan said, "Thanks to this netizen for helping me clarify, but I am actually already 26."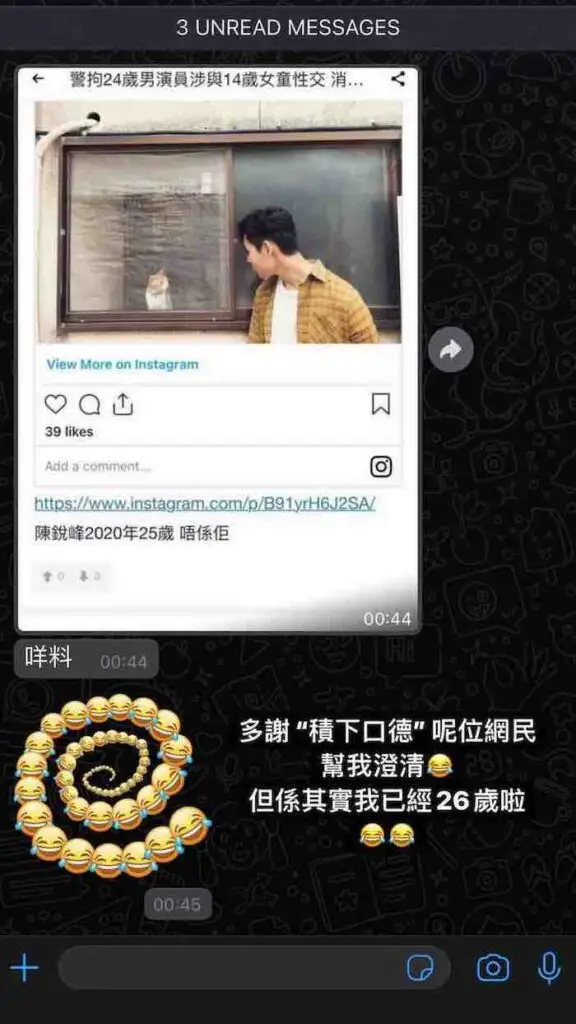 Daryl Chan is in the currently airing series, "Battle Of The Seven Sisters" (七公主). He debunked the rumors by saying, "Dude, I am only 23 this year." In a separate IG story, he wrote, "This doesn't have anything to do with me."
On September 4, a third male artist was rumored to be the male suspect. Hugo Chan (陳輝豐) was once in an outsourced TVB drama. However, he claims he is 25 years old this year and "I wouldn't touch a 14 year old girl." However, according to records online, Hugo Chan was born on December 13, 1996, making him still 24.
On September 5, TVB issued a statement saying the male suspect was not a TVB artist.