On September 22, Arthur Chen Feiyu (陈飞宇) and Zhang Jingyi (张婧仪), were announced as the leads in the modern romance drama, "Lighter and Princess" (打火机与公主裙). The series is based on a novel of the same name and written by author, Twentine.
Zhang Jingyi plays "Zhu Yun", whose world gets turned upside down when she meets bad boy, "Li Xun", in college. "Zhu Yun" thinks "Li Xun" is a good for nothing rich boy. However, he is actually an exceptionally talented programmer that was enrolled into the school's special program. After a few confrontations, they learn to appreciate each other.
A senior student, "Fang Zhijing", constantly makes things difficult for "Zhu Yun", but "Li Xun" steps in to protect her. He also invites her to join his programming team, where they win a prestigious award for their school. They develop feelings for each other and eventually get together despite the differences in their family backgrounds.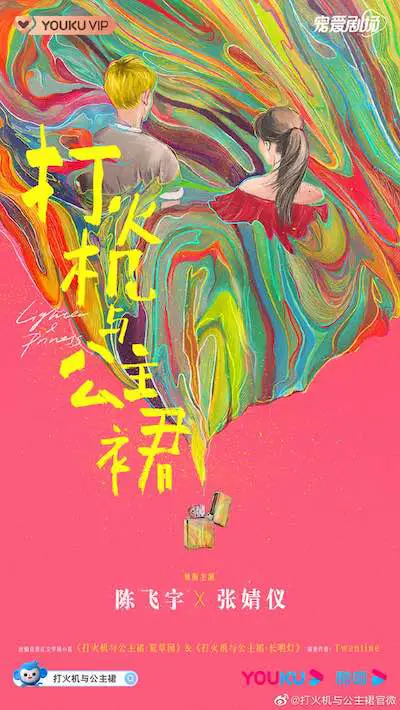 As their romance ascends, their career plans are also on the rise. Just as their creative project is near completion, "Fang Zhijing" indirectly causes "Li Xun's" sister to get into a car accident. Out of sadness and anger, "Li Xun" impulsively attacks "Fang Zhijing" and gets sentenced to prison. After getting released from prison, "Li Xun" hits rock bottom, but "Zhu Yun" stays by his side to help him change his fate and eventually fiercely defeats his business competitors, "Fang Zhijing" and "Gao Jianhong". "Li Xun" also took back the company that originally belonged to him. In the end, all of "Zhu Yun's" sacrifices allow "Li Xun" to overcome all the sadness brought from his family, open up his heart, and embrace the love the belongs to him."
As "Li Xun's" character has blonde hair in the novel, Arthur Chen Feiyu was already seen sporting with blonde hair prior to the official announcement of the series.