On October 25, Meng Meiqi (孟美岐) went viral after the ex-girlfriend of music producer and CHUANG 2021's music director, Chen Lingtao (陈令韬), accused her of being a third party in their 4 year relationship. Prior to this, there were already rumors a few days ago that said Meng Meiqi was in a relationship with Chen Lingtao after they were spotted traveling together in Nyingchi, Tibet, but her studio shut it down saying she was single.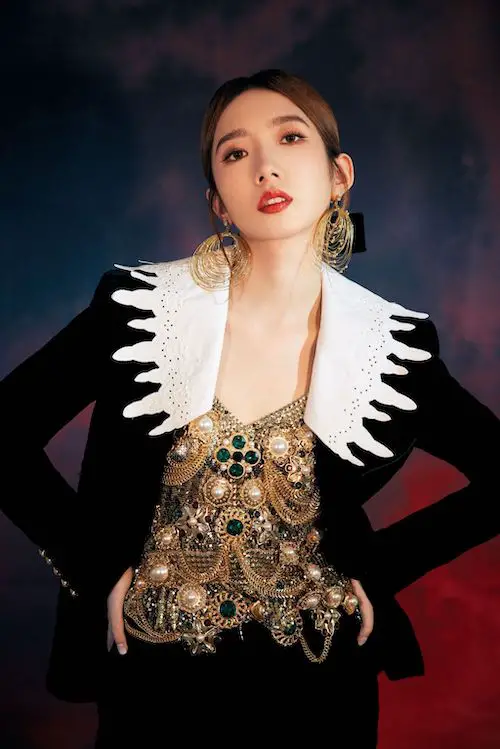 Around 4 am local time on October 25, Chen Lingtao's ex-girlfriend, uploaded a lengthy post under the alias, "他们叫我大花妞", saying Chen Lingtao had cheated on her around their 4th year anniversary. She originally didn't want to expose him as she wasn't in a good place after the break up and still held out a glimmer of hope. She also didn't want him to suffer as he asked her for another chance wanting to work on his music. It wasn't until her friends started getting attacked by her "fans". The third party in question was later named in a series of screen shots shared by the ex-girlfriend.
The ex-girlfriend said the first time she discovered Chen Lingtao cheating was on July 27. She found his chat records with Meng Meiqi where they had agreed to go on a trip together. On August 1, she discovered they were meeting up for a tryst a hotel the next night. The next day, the ex-girlfriend exposed him and decided to leave him before his mother flew to Beijing and told her that she should leave him as she won't be happy, but also convinced her to give him one last chance.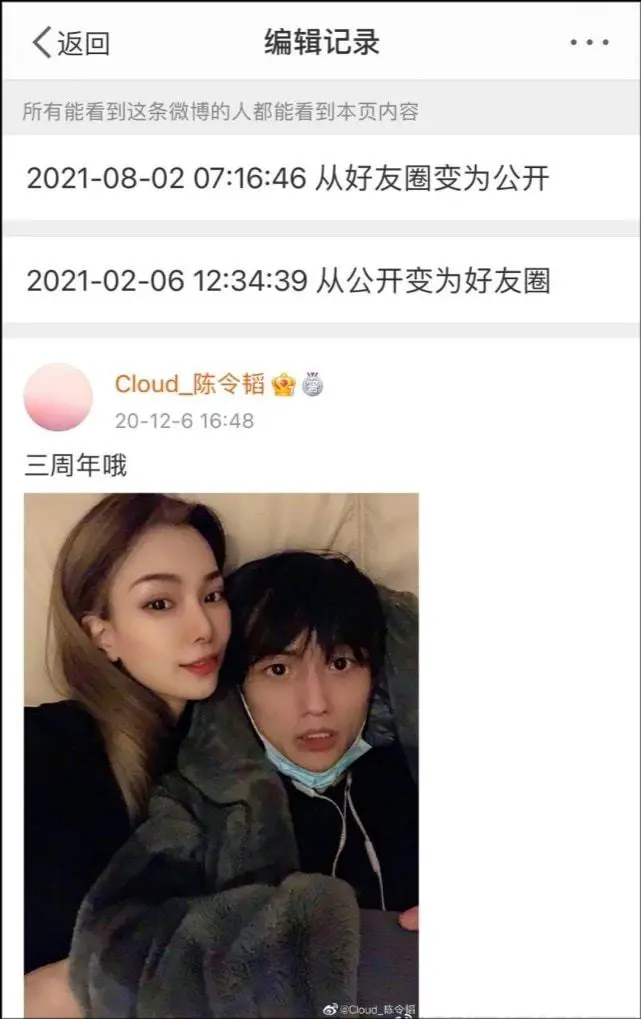 At the end of September, the ex-girlfriend was still having hopes of mending her relationship with Chen Lingtao and having a future together as they have talked about marriage before. However, she discovered Chen Lingtao had spent his birthday with Meng Meiqi and then a few days later, he had spent Meng Meiqi's birthday with her in Tibet. The ex-girlfriend started getting private messages telling her that Chen Lingtao was cheating on her and sent her the flight schedules. When she exposed him, he admitted to everything and said he was really tired lately, but said it was Meng Meiqi who had prepared everything and that she must bring him there. However, the ex-girlfriend received messages from the same people who said it was Chen Lingtao that prepared everything to bring Meng Meiqi there.
Afterwards, Chen Lingtao called the ex-girlfriend saying he really broke up with Meng Meiqi and asked her for another chance. The ex-girlfriend was conflicted as she loathed Chen Lingtao and the person who broke them up, but she also didn't want to see all his years of hard work go to waste. However, she later received messages alerting her that after the Tibet trip, they had met up again in Shanghai at their "hidden hotel" while he told her that they had already broke up.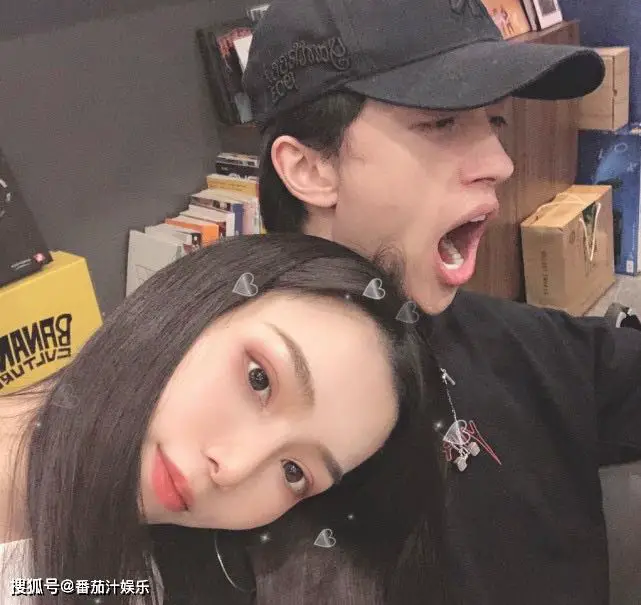 This was the last straw for the ex-girlfriend. She revealed that she received 400,000 RMB from Chen Lingtao as a "break up fee". She said the money was rightfully hers as she has sacrificed her own career and helped him with the matters at his company. She said she would've earned way more than that amount had she focused on her career. The ex-girlfriend revealed Chen Lingtao took the initiative to give her the money as he felt guilty and used it to make it up to her.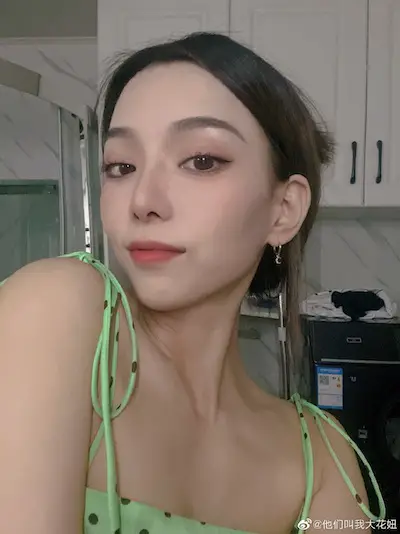 In a series of text messages from October, the ex-girlfriend confronts Chen Lingtao about being harassed by Meng Meiqi's fans. Chen Lingtao reveals that they found out through their flight itineraries and didn't know that him and his ex-girlfriend had already broke up. When the ex-girlfriend asked Chen Lingtao if he and Meng Meiqi were officially together, he said yes. He also said if this got out, he would take all the responsibility. He claims that all the harassment the ex-girlfriend is receiving is the company's doing and that Meng Meiqi isn't aware of anything. Chen Lingtao also said Meng Meiqi had no plans of revealing their relationship and that her company is just saying they are friends hanging out.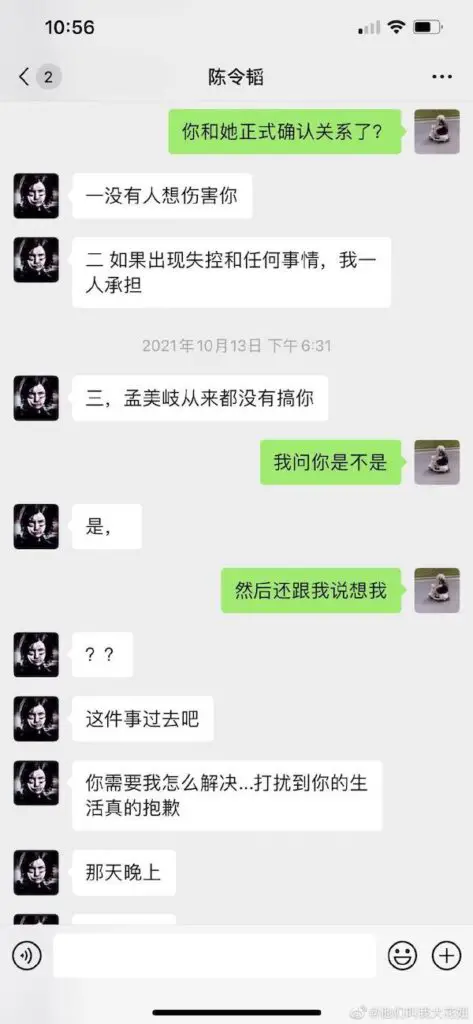 The ex-girlfriend also released a series of intimate chats reportedly between Chen Lingtao and Meng Meiqi. One of the chats shows Meng Meiqi planning for one of their getaways and telling Chen Lingtao that they'll be safe as the hotel they're staying at requires all the employees to sign NDAs. There are quite a few chats about them scheduling time to getaway together. In another screenshot, Meng Meiqi is seen telling Chen Lingtao that she knows of a "hidden and quiet" hotel in Shanghai. There are screenshots of Meng Meiqi saying she misses Chen Lingtao and that she's starting to lose control when she thinks about him sometimes. She can't eat and starts to have crazy thoughts. Chen Lingtao also says he's starting to lose control when it comes to her.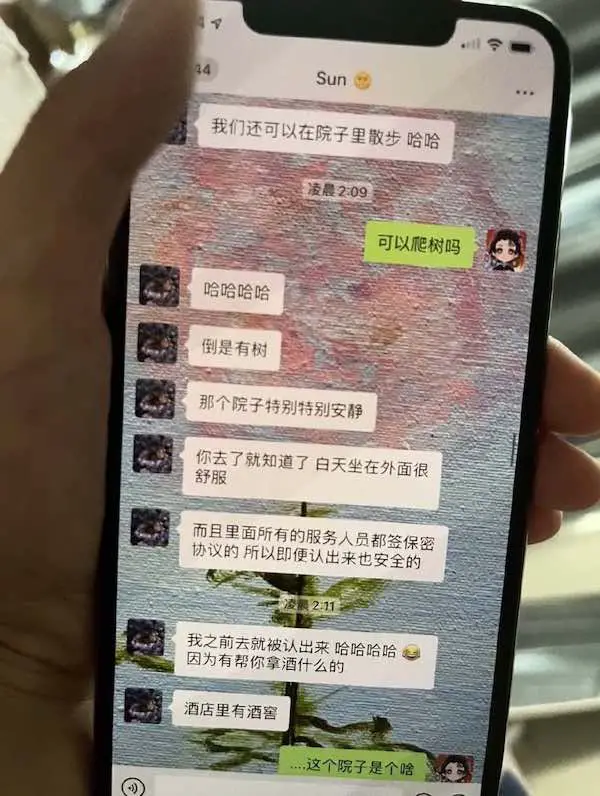 At one point, Meng Meiqi tells Chen Lingtao that her thoughts automatically wander into a weird direction and she starts to get "456". Chen Lingtao tells her, "The discussions between 456 and 456 are incomplete." Meng Meiqi responds back to him, "I was quite 456 just right now. It started when I saw your messages." The topic about the meaning behind "456" started trending on Weibo. A musician explained that "456" is referring to the 4th, 5th, and 6th syllables of the notes on a musical scale, do-re-mi-fa-sol-la-ti-do. "Fa-sol-la" sounds like the Chinese words, "发骚啦", which is slang for horny.

Afterwards, Chen Lingtao posted a lengthy response to the ex-girlfriend's accusations, which almost sounded like a suicide note. He apologized to his family, friends, and co-workers. He explained, "This is a matter between two people. I hope this matter won't hurt the innocent parties any longer. Didn't avoid it, since I'm wrong, I'll own up to it…There are a few logical points people end their lives, 1: they have no way of facing something, 2: life and death are huge. Let matters end here. I'll end it all." Chen Lingtao then talks about leaving his estate to his family and younger sister. He also said he hopes his sister spends more time with their father after he leaves and hopes to be his parent's child in the next lifetime.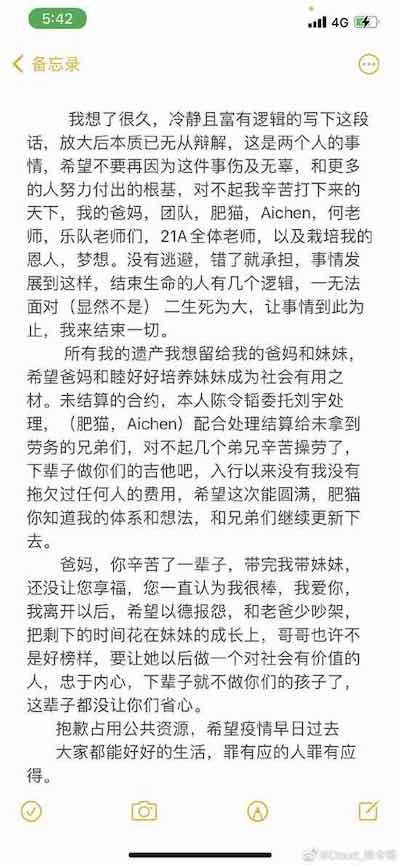 YUE HUA Entertainment issued a statement denying the claims that Meng Meiqi "continued being a third party after knowing she was a third party" or that she was a "third party".
They also said that Meng Meiqi didn't know about Chen Lingtao's personal life and has never involved herself in his relationships. As for the chat screenshots, YUE HUA says those are one-sided screenshots and that Meng Meiqi is currently single.