Li Yitong (李一桐) and Bi Wenjun (毕雯珺) were trending on November 2 when the paparazzi released a video of them hanging out together on more than one occasion. Dating rumors started circulating between the two co-stars, who wrapped up filming on their series, "Jiu Xiao Han Ye Nuan" (九霄寒夜暖), on September 1.
The paparazzo claims after Li Yitong and Bi Wenjun wrapped up filming on their series in early September, Li Yitong was seen getting onto Bi Wenjun's car after work one day. They were later spotted dining together; Bi Wenjun paid the bill. Afterwards, they both got into the same car. Bi Wenjun was seen stopping the car halfway into their journey apparently to buy ice cream for Li Yitong. Afterwards, they both went home separately.
In October, the paparazzo spotted Li Yitong and Bi Wenjun at the same hotel. He claims Li Yitong was first seen entering the hotel followed by Bi Wenjun bringing take out into the hotel. According to the paparazzo, Bi Wenjun wasn't seen coming out of the hotel until the next morning.
Watch the full video: https://weibo.com/tv/show/1034:4699050306633752?from=old_pc_videoshow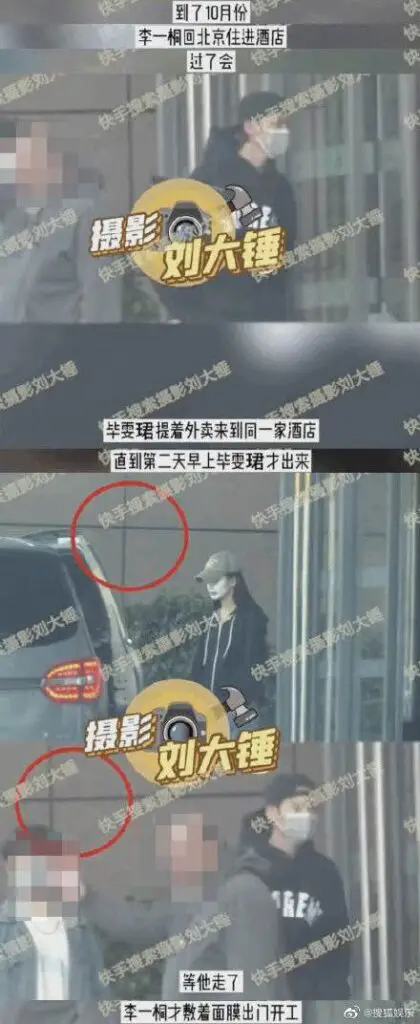 The dating rumors between Li Yitong and Bi Wenjun started to gain traction because of the video. However, Li Yitong's studio and Bi Wenjun's camp issued statements denying the dating rumors soon after they were trending.
Li Yitong's studio said, "It was just a friend's gathering. Both artists are really good friends in private. We reject all types of following and filming behavior and had no intention to take up public resources. Hope everyone pays more attention to the works."
Bi Wenjun's team said, "Just a private dinner between friends. There were also other good friends in attendance. Hope netizens won't believe in rumors and won't spread rumors. Mr. Bi Wenjun is focused on his career and currently in a new cast filming a series. Looking forward to present even better works in the future."