TVB actress, Alice Chan (陳煒), received the best birthday this year. On Alice Chan's 48th birthday on November 21, sh revealed her doctor boyfriend of 3 years, Aldous Chan (陳國強), proposed to her and she said yes! Aldous Chan disguised the proposal scene as if it was for her birthday celebration. With good friends present, Aldous Chan got down on one knee and proposed to Alice Chan with a 3 carat diamond ring and 99 roses.
Alice Chan posted the good news on Instagram of her ring and said, "Grateful to have you." She also showed her 6 pound birthday cake of a diamond ring in a box that said, "Happy Birthday, Mrs. Chan Alice".
It's reported Aldous Chan especially asked Alice Chan's friends to wear black and white while telling Alice Chan the dress code was red so as not to take the spotlight from her. When Alice Chan saw her friends dress differently from her, she was a bit stunned, but didn't think too much of it. It wasn't until their friends raised their glasses and sang happy birthday while the server pushed out the 6 pound diamond ring cake that Alice Chan realized what was going on.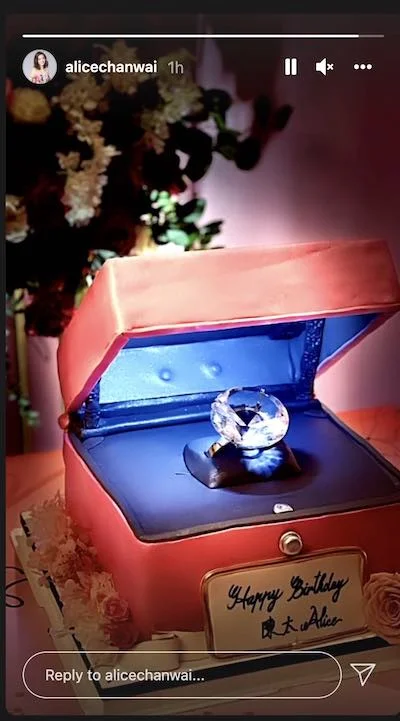 Alice Chan and Aldous Chan went public with their relationship in July 2019. However, when they first announced their relationship, there were accusations that Alice Chan was the third party in Aldous Chan's marriage that led to his divorce. Aldous Chan came out to clarify that he was already divorced when he and Alice Chan got together and said she wasn't a third party.
Prior to that, Alice Chan was married to a Taiwanese businessman for four years, but are still friends. Aldous Chan is also a divorcee with two daughters. The two were friends for over a year before they started dating.
Credit: hk.on.cc, Alice Chan IG