Veteran Hong Kong singer, Alan Tam (譚詠麟), has been promoting in mainland China recently. Alan Tam got embroiled into a scandal recently when a netizen revealed his 23 year old girlfriend cheated on him with the 71 year old singer.
On November 23, a netizen claimed his girlfriend cheated on him with a Hong Kong male singer. He revealed his girlfriend was originally the singer's fan. He supported her in chasing after stars until he discovered she had a men's Polo shirt and cologne in her shopping cart. He also discovered she had hid her photo album. Finally, he revealed, "I never thought the male lead would be this singer. It turns out when she previously lied to me that she was going to Shanghai for two days to look for her friend and go shopping, she was actually having sex with this singer in the hotel room."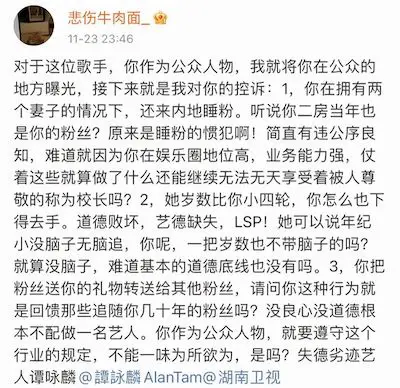 The netizen directly named the male singer to be Alan Tam. In a series of rants, he said, "You already have two wives and you still come to the mainland to sleep with fans. I heard your second wife was also your fan back then. It turns out you're a habitual offender in sleeping with fans! She is younger than you by four rounds. How can you make a move on her? Morally corrupt, lack of artistic ethics, old pervert!" At the end of the post, he tagged Alan Tam's Weibo account and Hunan TV.
In addition to these posts, the netizen also posted pictures of a hotel room with a man's back facing the camera.
On November 24, Alan Tam's management company issued a statement denying the rumors and expressed the content of the netizen's posts are not true. They also said Alan Tam extremely respects his fans and will be taking legal action against the false accusations.
The netizen revealed additional pictures of a man's back in the room and also his girlfriend's chat records with someone named "Tam 25 Tam". One of Alan Tam's old saying was that he was always 25 years old. However, on November 25, the posts and pictures have been deleted leading netizens to question if he was "PR'ed" (public relations). He followed up with a post saying he wasn't "PR'ed" and won't accept being "PR'ed". He also said he only wanted to vent on Weibo and that his ex-girlfriend told him the whole story. He said he accepts full legal responsibility for all the content he posted.