After two days of silence, Wang Leehom (王力宏) finally released a statement late night on December 19 in response to Lee Jinglei's (李靚蕾) accusations. He said he was struggling on whether to "refute the false accusations as it would be good for the mother of my three children. On the contrary, if I didn't respond, everyone would believe these things are true."
Wang Leehom prefaced his statement with an apology because he didn't want to hurt "the mother of my three children and more so our children. They are my family, my everything, my most loved."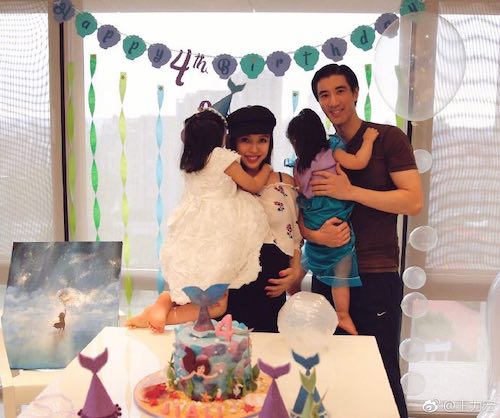 Denies Being Unfaithful
The first point Wang Leehom tackles: "I can say with certainty, I wasn't unfaithful during our marriage."
Wang Leehom then points out that him and Michiko Nishimura (he mentions Lee Jinglei was going by her birth name at the time as her father is Japanese), met in 2003 at his concert, but after that, they weren't in contact for almost 10 years. He then shows an email he sent to Lee Jinglei in 2011 showing that they weren't close that time. He also said Lee Jinglei was already 26 at that time, not underaged as described by Lee Jinglei.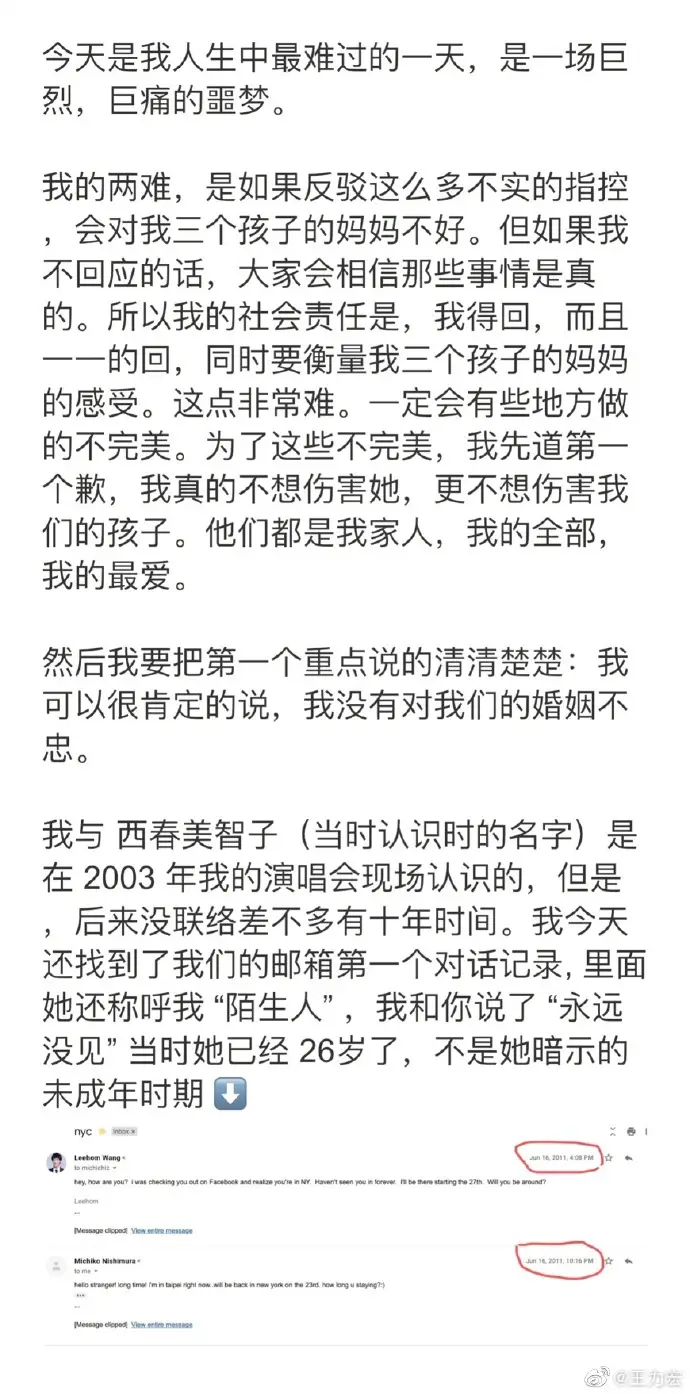 Their marriage lasted from November 27, 2013 to their separation on August 5, 2019. Wang Leehom said he lived under fear, extortion, and threats in those 5 years and 8 months of marriage. Lee Jinglei got pregnant shortly after they got together. He said he was surprised and shocked as he desired to have children, but they were not at the stage of talking about marriage at the time.
Then one day, Wang Leehom claims Lee Jinglei told him, "If you don't get married with me today, I will disappear, change my name. You won't see the child in my womb in this lifetime. Don't think about finding me. You will never find me." Wang Leehom said there is an audio recording of this section that was recorded during one of their marriage counseling sessions in 2016. Wang Leehom said he was afraid of not seeing his child and agreed to Lee Jinglei's demands. They registered their marriage in New York City that day.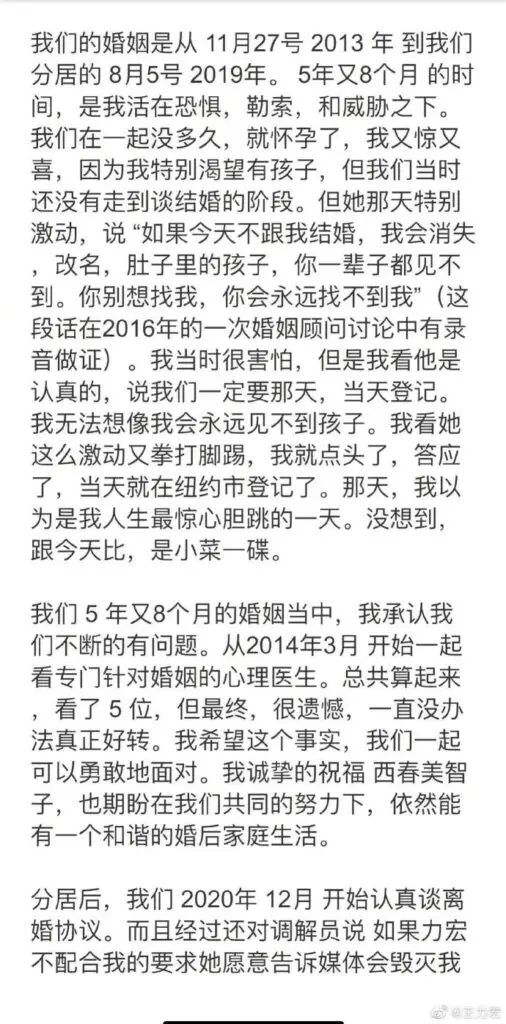 Divorce Agreement
Starting from March 2014, they've gone through five therapists that focused on marriage counseling. In the end, nothing worked. Wang Leehom revealed after they separated, they started seriously talking about their divorce agreement in December 2020. He claims that Lee Jinglei told the mediator, if Leehom doesn't meet her requests, she is willing to tell the media things that will ruin his career. He claims the mediator has a recording of this, but he hasn't heard it yet.
In reference to Lee Jinglei saying she wouldn't want a dime from him if it meant she would have to suffer the emotional from him and family, Wang Leehom said, "Lee Jinglei isn't the so-called 'I don't want a dime' image. In the beginning, she wanted around 200 million RMB. In the end, both parties signed a version that amounted to around 150 million RMB, including half their Los Angeles property, half of their investment portfolio (in USD), 210,000 RMB monthly in living expenses, in addition provide a nanny, driver, dedicated car, 24 hour live in helper, and live for free in their Taipei property for 18 years, and more.
Wang Leehom said he hoped all this could provide a comfortable life for Lee Jinglei, but claims she always felt this was too little. He said the money isn't the focus right now, it's their three children. He chose to speak up now citing that this currently the only method of communicating with Lee Jinglei. He asked Lee Jinglei to direct all her requests and anger at him and asked her to stop sharing things on the internet that would make it unbearable for their children to face when they grow up.
He also pleaded with Lee Jinglei to let him see their children.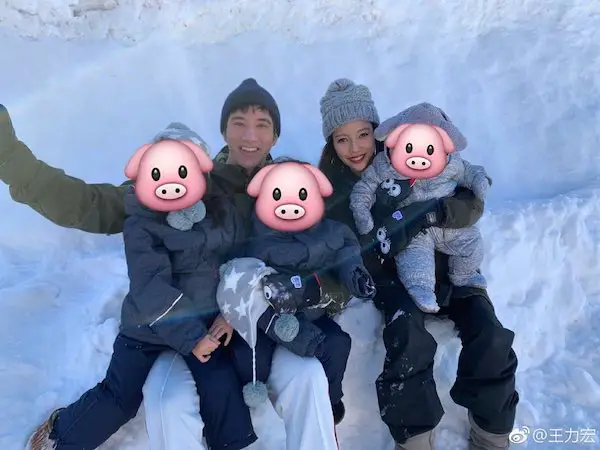 In closing, Wang Leehom expressed regret for not being able to reach Lee Jinglei's standards of being a good husband. He also apologized to the public for not "managing" his marriage well and to all the innocent people who dragged into this.
Wang Leehom also apologized to his parents and also thanked his father for handwriting that letter.
Lastly, Wang Leehom said his writing wasn't as good as Lee Jinglei's and he will be responding to her "false accusations in the 5000 word long essay".