Content Warning: The following content may contain verbal and/or visual references to suicide and/or self harm. If you or someone you know is suicidal, please seek assistance with your local suicide intervention group:
https://www.opencounseling.com/suicide-hotlines
Lee Jinglei (李靚蕾) has been given the nickname "Thor's Hammer" by Chinese netizens as her name "Lěi" (蕾) sounds like the Chinese character, "léi" (雷), which means "thunder" and is used for Thor's name, for her lengthy posts exposing Wang Leehom (王力宏). After over three weeks of silence, Lee Jinglei issued another lengthy post late at night on January 11. This time, Lee Jinglei calls out Wang Leehom for violating their visitation agreement when he brought three men to see their children.
In her post, Lee Jinglei explains she has been silent for three weeks facing endless streams of strange news each day while dealing with her personal safety, her children's safety and mental abuse. She also said about Wang Leehom's apology, "As it turns out, the surface apology wasn't a sincere apology. It was only means used to temporarily appease public opinion and to let me stop here and let go of the past."
Lee Jinglei says their children don't know what happened between her and Wang Leehom. She emphasizes again that she hopes their children grow up in a normal environment with healthy and loving parents. Lee Jinglei said she tried her best to maintain Wang Leehom's relationship with their kids despite him being away from them for long periods of time, by showing them their spirit and love is still with them. "The best proof is just looking at the children's attitude and love towards their father who is not around all year round."
Communicating through a mediator
During this period, Lee Jinglei says the children have been counting down to when Wang Leehom comes home to see them. After they went to bed, Lee Jinglei revealed she asked Wang Leehom what time he would be returning home. Wang Leehom reportedly told her to ask the mediator in the US. Lee Jinglei asked him to tell her directly as it was already late, she was tired, and there was the time difference. She didn't want the children to get their hopes up either so she wanted to know what time he was coming home.
As a result, Lee Jinglei received a message from the mediator at 12:30 am, which was a forwarded message from Wang Leehom telling her that he is bringing two of his staff members that are familiar with the children to the home tomorrow morning. Lee Jinglei told Wang Leehom that she didn't feel this arrangement was in the best interests of their children; they welcomed him coming home by himself and not to bring anyone else. She explained the children aren't familiar with any of Wang Leehom's staff members nor do they have any interactions with them in their personal lives. Lee Jinglei said the children have only heard him mention their names, but has never played or interacted with them before. "So your staff members are strangers to the children. I think the children's interactions with you should be in a space where they'll have privacy and feel free, there is no need for anyone else to come to our home to monitor."
Lee Jinglei didn't hear back the next morning so she sent Wang Leehom another message saying the children were really looking forward to see him. She said it was only her and the children at home and asked him not to bring anyone else. Lee Jinglei revealed as part of the divorce agreement they signed that anyone other than them two needed consent from both parties to come to the house during visitation hours. Wang Leehom responded back to Lee Jinglei saying he would be bringing two of his male staff members. Lee Jinglei said she explicitly rejected it and told him, "It's just me, a girl, and our three children at home. You bringing two men makes me have safety concerns. I hope we can temporarily let go of our feelings and focus on the children. Today, for the sake of the children, let's purely be the children's dad and mom and interact with the children."
Bringing staff members to visit the children
Wang Leehom still rejected Lee Jinglei's objection as he brought two men with him and rang their door. Lee Jinglei asked him to let the two men wait downstairs. She said Wang Leehom strongly disagreed and threatened her saying if she didn't let in the people he brought, he wouldn't come home to see the children. At the same time, Wang Leehom reportedly requested for Lee Jinglei to remove the surveillance cameras on the children before he enters the home. "I asked you not to leave because if you leave, the children will be very sad. They've been expecting you to come home for a long time. Please, you must see the children no matter what." Lee Jinglei once again asked for the two men to leave and asked Wang Leehom to come in to see the children. Wang Leehom ensured her that there were only two men that she already knew and no one else, telling her not to worry. These two men also said it was just them both. Afterwards, he requested to remove the surveillance cameras.
Lee Jinglei said aside from work, she has never had any personal interactions with these two men. She felt uncomfortable with the current situation. She asked Wang Leehom why he wanted to get rid of the surveillance as it would also protect him. Lee Jinglei felt it was weird and told him that aside from her and the three children, there was another female helper at home. His actions were scaring her. When Wang Leehom insisted on the two men not leaving, she looked at the surveillance footage and discovered there was a third man she has never met hiding in the back. She said the other two staff members even motioned for him to stand further back. This creeped Lee Jinglei out.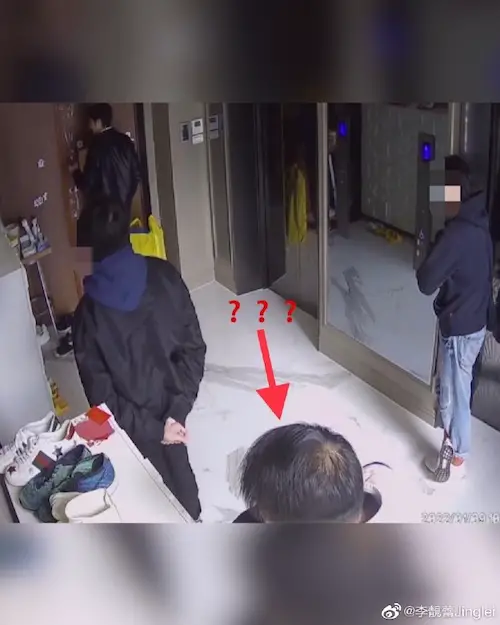 Wang Leehom reportedly tried to use his key to burst in and kept shaking the doorknob, but it was locked. Lee Jinglei said the children were crying throughout the entire ordeal while her hands kept shaking nonstop even into the night. Lee Jinglei revealed Wang Leehom once revealed to her that the staff member closest to him in recent years has a criminal record in Taiwan and was familiar with the local triads. Now that he has returned to Taipei, he tried to meet up with Lee Jinglei the previous day.
Lee Jinglei: "If anything happens to me, it's definitely not because of suicide."
Prior to this, Lee Jinglei said Wang Leehom and his staff member had let the news out that he had delayed not explaining himself because Lee Jinglei might jump off the building to commit suicide. Lee Jinglei solemnly declared: "I am physically and mentally healthy. With three children still so young, there are also a lot of plans to give back to society in the future. It is completely impossible to have suicidal thoughts. If anything happens to me, it's definitely not because of suicide."
Lee Jinglei says she has been suffering from mental stress during this period. Aside from caring for the children, she has been facing constant harassment from Wang Leehom. She said Wang Leehom has been pretending to be pitiful in front of friends and family to get their sympathy and take advantage of them to help spread news that helps him. Lee Jinglei also said Wang Leehom has been harassing the people around her and trying to discredit her and fabricate evidence. In the example she used, Lee Jinglei said she lets Wang Leehom have video chats with the children everyday, witnessed by the people around her. However, Lee Jinglei said Wang Leehom tells people around him that he misses the children a lot and that she wouldn't let him see them and when he calls, she would only let him see the floor and other false accusations. Lee Jinglei said she has been spending so much time to gather up evidence to prove she has been wrongly accused and that Wang Leehom is doing this to mislead the public with lies and emotional abuse.
Exposing the children's appearances
Lee Jinglei recounted one time when Wang Leehom was video chatting with the kids, he tried to convince them to go down to the first floor knowing that the media was downstairs. He reportedly told them, "The media is filming downstairs. It's okay. Daddy isn't scared. You guys just let them film." In addition, Lee Jinglei said Wang Leehom shared the content of a 17 minute long private video chat between him and the children with a non-related person, revealing their appearances and privacy without authorization from the children or her. When she asked him why he did that, he couldn't explain it. Lee Jinglei explains their children's appearances have never been revealed before, which has allowed them to live peaceful lives without being bullied or bothered up until now.
She goes on to say that Wang Leehom told the media that the children are the most important to him right now. "I heard it, I haven't seen it. What I see is that in your eyes it's still just you…What I've discovered now is that a mentally and physically unhealthy father is even scarier than an absent father. I truly hope you can wake up, don't make any more mistakes."
Lee Jinglei also calls out Wang Leehom and his father for trying to slander her character by writing about their children's lives being so unbearable. She also emphasized the need for their children to grow up mentally and physically strong and asked the media and netizens to refrain from taking pictures of their children in the future to give them a private and safe life.
Lastly, Lee Jinglei says, "Regarding you misleading the public, accusing me of wanting money from you, I've already obtained evidence proving that from beginning to end, I've only ever made arrangements for the children to be physically and mentally healthy and for their quality of life not to change. I've never asked you for more money. As for you and your father especially mentioning the nighttime nanny working a few nights a week, a helper, a driver, all these staffing arrangements are already part of the children's quality of life and also very common. We have safety concerns going in and out, having a driver is to protect the children's safety. A helper and a few days a week nighttime nanny allow me to have an even higher quality companionship, education, and child care protection. All these shouldn't be stripped away just because you solely decided to live a single lifestyle."
Credit: Weibo (1)