In addition to calling out Wang Leehom for violating their children's visitation agreement, Lee Jinglei also addressed BY2 calling her out for not following up with the police after they privately messaged her with their info.
In Lee Jinglei's (李靚蕾) lengthy post, she said that the message might have buried in the 15.12 million new messages in her inbox. "However, I couldn't search for it (please see the video). The fact is, I've waited 21 days and I didn't receive any of your messages. The things I've mentioned in my statement, each sentence is true. I will definitely do my best to cooperate with the investigation and provide evidence to the police. Regarding you and your 'best friend' releasing all kinds of news for three weeks already, I hope it can end here. Whether the threshold for a public figure is being someone who can bring positive impact to society (or at least being a person that doesn't bring negative impact) is worth considering for us."
Since BY2's friend, "007", started posting on behalf of Yumi, she has been accusing Lee Jinglei of hiring water armies to attack Yumi and whitewash the truth.
Scroll to the last slide to see the video of Lee Jinglei scrolling through her messages and searching for BY2 Studio, which doesn't seem to return any results. However, netizens have said she could have deleted the message or that she needs to click into BY2 Studio's homepage and then click on private messages to check. Some netizens also said they have experienced not receiving messages before because it gets flagged or deleted by Weibo.
BY2's studio responded back shortly with their own video showing the message they sent to her on December 19. In the video, they clicked into Lee Jinglei's Weibo account and selected private messages. They also said, "She is lying again. Don't tell me you're always going to hide behind the keyboard, create rumors, cause trouble, and you don't need to take legal responsibility because you're not in the mainland?"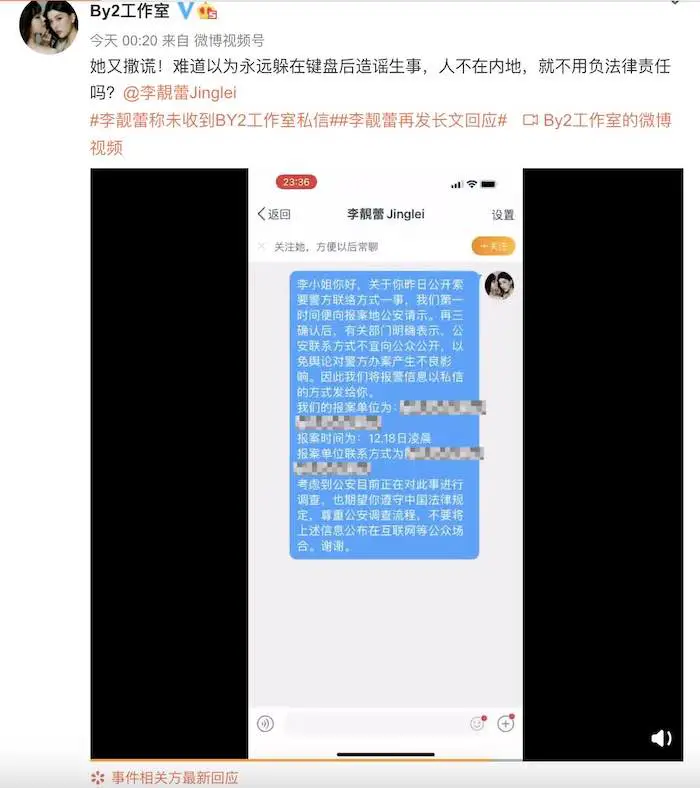 The studio followed up with another post showing a notarized certificate of their private message sent to Lee Jinglei. They said, "We don't have the literary talent to invert what's right and wrong, just notarized documents and innocence. We hope @Lee Jinglei won't continue slander, smear, manipulate public opinion, and set bad examples to even more young people. You're not in the mainland, Weibo account isn't verified, it's very hard to confirm your identity. Since you're online, please give your contact information, mailing address, and accept the legal judgment."
There seems to be mixed reactions with Lee Jinglei, BY2, and Wang Leehom supporters all leaving their opinions. Those purely here for the tea have questioned why all the involved parties who aren't of Chinese nationality are involving the Chinese police and using their resources.