While the saga between Wang Leehom (王力宏) and Lee Jinglei (李靚蕾) might have simmered down, the drama between BY2 and Lee Jinglei has taken a different turn. On January 29, BY2's studio revealed they had officially filed a defamation lawsuit in Shanghai against netizens spreading rumors about Yumi being a third party in Wang Leehom and Lee Jinglei's marriage. BY2's studio also said the following:
"Previously, Ms. Lee Jinglei publicly alluded to Yumi coming between her marriage and also asked for the police's contact info saying she wanted to provide evidence. The facts are: 2012-2013, Yumi and Wang Leehom were officially dating. All their close friends knew about it and she has never come between other people's marriages. When confronted, Ms. Lee Jinglei has shifted the focus many times and still hasn't provided any evidence to date. Perhaps it's because the police and the court don't compare to the fictitious online world, malicious misleading and fabricating evidence are crimes. From the beginning to now, we've been finding ways to defend our rights."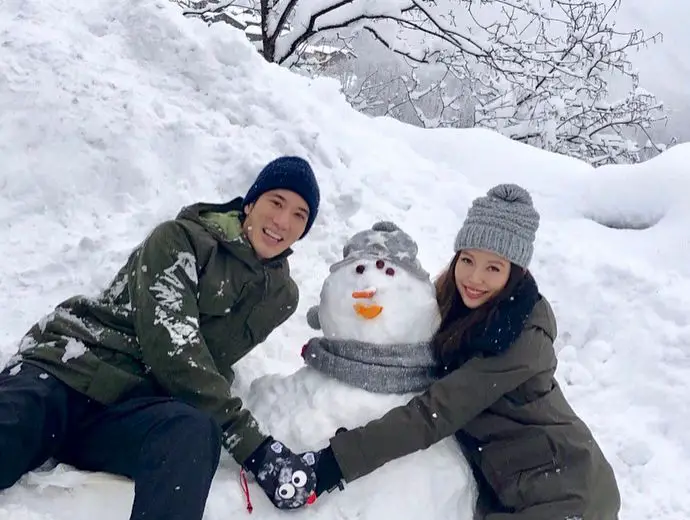 The studio also said the police told them that because Lee Jinglei is not in the mainland, they had no way to subpoena her immediately. They decided to file a lawsuit to defend their rights and said, "The law looks at justice, not at 'little essays'…In order to satisfy her selfish desires, Ms. Lee Jinglei used netizens to drive public opinion and used cyber violence to kill people."
BY2's studio also said they will continue fighting hard for justice against the rumor starters no matter how long it takes and tagged Lee Jinglei saying, "See you in court."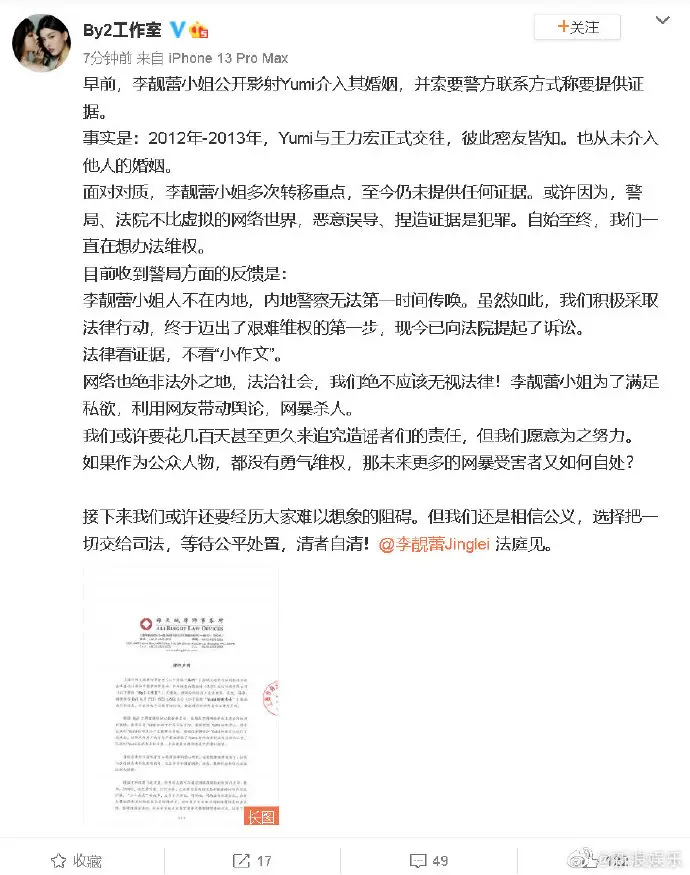 The studio also uploaded a statement from their lawyers stating they are taking legal action against netizens and social media accounts that were defaming Yumi's reputation. They are asking for the relevant posts be deleted and to stop spreading of rumors. Their lawyers have already assisted in the notarization of the evidence. While the statement doesn't specifically name Lee Jinglei, BY2's friend, "007", who has been speaking up for Yumi, has constantly reminded netizens that Lee Jinglei is also a netizen.
Lee Jinglei hasn't responded to BY2's statement. Her latest post was from January 13. The public opinion on Weibo seems to have also shifted with majority of netizens supporting BY2.