On the same day Xiao Zhan (肖战) and Li Qin (李沁) were announced as leads in their new drama, "Where Dreams Begin" (梦中的那片海), dating rumors were circulating between the leads once again.
After the announcement of "Where Dreams Begin" was announced on the morning of February 7, Xiao Zhan's defense squad issued a post minutes later saying, "Fake! Please don't start and spread rumors!". They included two screenshots with "fake" plastered over it that said, "If Xiao Zhan and Li Qin are definitely starring in 'Where Dreams Begin', can only wish this sweet couple to be together forever." and "So Xiao Zhan and Li Qin will be together sooner or later?".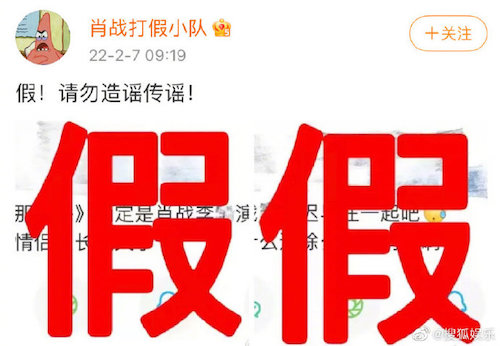 Xiao Zhan and Li Qin were previously involved in dating rumors last June when a netizen revealed pictures of them two dining together. Li Qin had showed up to the celebratory dinner for Xiao Zhan's play, "A Dream Like a Dream" (如梦之梦), that wrapped in Chengdu. Soon after, dating rumors started circulating. Xiao Zhan's team shut down the rumors and explained it was just a group dinner with friends and urged people to stop starting and spreading rumors.
Li Qin and Xiao Zhan are good friends after working together in four productions. This series will be their fifth time collaborating together.