TVB's "Sinster Beings" (逆天奇案) was the highest rated drama in 2021 with an average rating of 26 points and the ending reaching 30.2, which was the only TVB series to reach 30 points for the year. The series starred Ruco Chan (陳展鵬), newly crowned "Best Actress", Rosina Lam (林夏薇), Ben Wong (黃智賢), and Crystal Fung (馮盈盈). It was Ruco Chan's first series to air in three years since his last series, "Succession", aired in 2018.
Due to the ratings success, executive producer, Lau Ka-ho (劉家豪), had already announced plans for a sequel at the celebratory dinner last year. Just recently, he posted on Weibo confirming the creative process has already started for "Sinister Beings 2" and that the original cast will return to start filming in October. He also tagged some of the cast members, which included Ruco Chan, Rosina Lam, Ben Wong, Joman Chiang (蔣祖曼), Jonathan Cheung Wing Hong, and Moon Lau. However, Crystal Fung, who played a major role in the series, was not tagged.
Due to the news, netizens left comments hoping the sequel can avoid scenes like "Sum Sir" (played by Ruco Chan) cheating with "Ana" (played by Crystal Fung). Lau Ka-ho responded back that they will try their best. When asked if "Sum Sir and "Wing" (played by Rosina Lam) will reconcile, Lau Ka-ho said, "90% chance of happening". Due to the netizens' feedback and Crystal Fung not being mentioned by Lau Ka-ho, there are strong speculations that she might not be joining the sequel. There are also rumors Crystal Fung is being frozen by TVB due to three actions that have angered the company.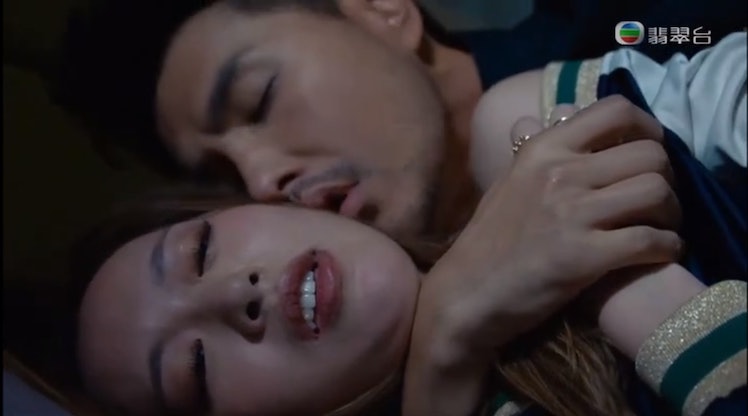 On February 14, Ruco Chan attended a promotional event for his currently airing series, "The Righteous Fists" (鐵拳英雄). When asked about the rumors of Crystal Fung not returning for the "Sinster Beings" sequel, Ruco Chan responded, "I've heard about this news…I don't even know if I will have a part in it. I really have to wait for the company's notice each time. Especially with the pandemic now, are they really going to start filming as planned, I really don't know. But for these rumors, it's better to just laugh at it or perhaps it would be better to ask Crystal Fung. I think she was really busy last year. Maybe she needs to rest. Truthfully speaking, I really don't know."