In Chinese entertainment, Valentine's Day can either be a day of happy celebrations or a day of scandals. On February 14, a netizen released chat records of married Chinese actor, Du Jiang (杜江), private messaging a female influencer that started on February 3. Du Jiang had sent an audio message to her saying he needs to go to Wuhan to film a series in March. He then messages, "Messages are confidential." and told her, "Let's add each other on WeChat."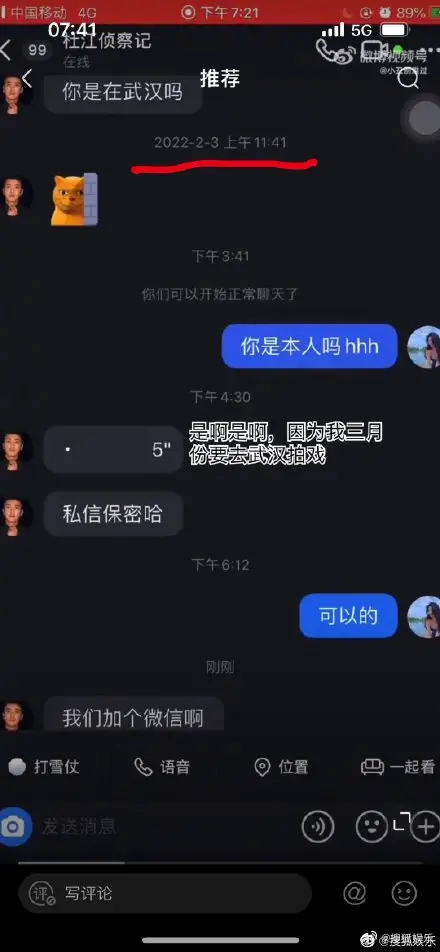 On February 10, a netizen had actually submitted an article about this topic. Fans said they asked Du Jiang's team about the texts on February 11. The staff members told them that Du Jiang is launching a gourmet food and fitness event in Wuhan. The private message was sent by his staff member. On February 11, Du Jiang also posted on Douyin asking for people to send him suggestions for good eats, things to do, and fitness places.
Du Jiang addressed the rumors on February 15 saying, "Even if I was a person with a crooked mind, would I be stupid enough to use an account logged in by many staff members to privately message a netizen?" Du Jiang also said his relationship with his actress wife, Huo Siyan (霍思燕), "is real ad also continuous and constant." He also said spoiling his wife is not his persona and asked, "Why do you always want to tear up my family?"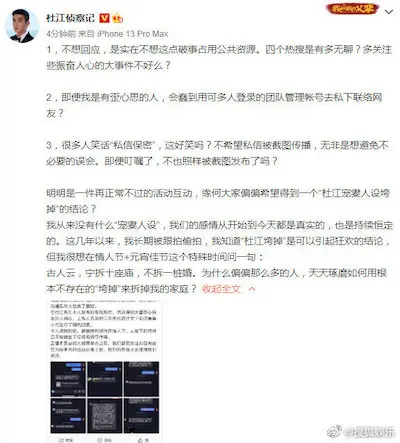 In addition, Du Jiang's studio stated they designed a series of interactive events to promote Wuhan's food and beverage specialties and sports. This is the reason why Du Jiang's staff member used his Douyin account to search for locals from Wuhan and messaged them to inquire.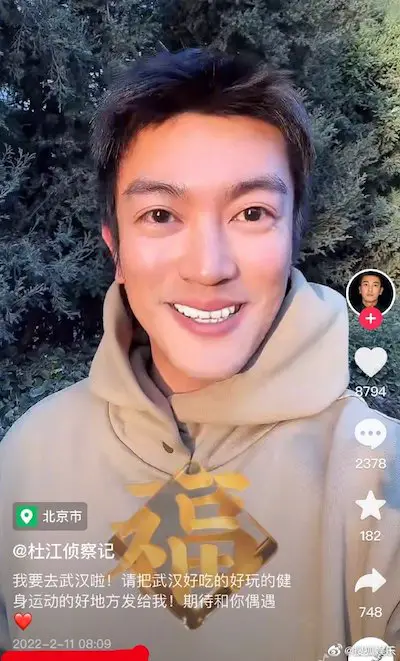 A netizen left a comment on Du Jiang's explanation, saying, "As long as Huo Siyan believes it, we don't care." Huo Siyan responded to this netizen, saying, "I believe."

Du Jiang and Huo Siyan have been married since 2013. They have a son nicknamed, "Uh-Huh" (嗯哼), born in 2013. Du Jiang and "Uh-Huh" got a lot of recognition after filming "Where Are We Going, Dad 5".