On March 14, Faye Wong's (王菲) ex-husband, Li Yapeng (李亚鹏), suddenly announced he got remarried and is a new dad. In a 54 second video, Li Yapeng showed his wedding picture with his wife, Haiha Jinxi (海哈金喜), who is of the Yi ethnic minority from Sichuan, and a picture of a baby.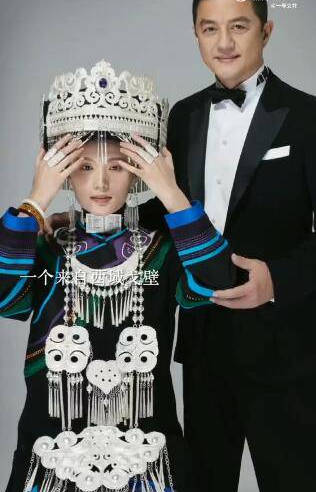 Li Yapeng wrote, "You look at the parents and children waiting and seeking help from the Smile Angel Foundation (嫣然天使基金), I look at you who standing in the crowd. Your eyes are full of concern and pity. In my eyes, I saw our future, one from the Gobi in the Western Regions, one from the green mountains from Shu. Join hands in the road of life and in the name of new life, pray for prosperity of the country and prosperity of the people, and world peace. Let's love!".
Faye Wong and Li Yapeng got marred in 2005 and have a daughter, Li Yan (李嫣), born in November 2006, before divorcing in 2013. Li Yapeng, who is 51 this year, and Haiha Jinxi, 19 years his junior, were first rumored together back in November 2020 when they were seen kissing and enjoying each other's company in her hometown. Earlier this year, Li Yapeng and Haiha Jinxi were seen taking wedding photos. On March 7, the two were seen together at an OB-GYN appointment.