Chinese actor, Wang Yanlin (王彦霖), announced the birth of his first born baby with his wife, Ai Jiani (艾佳妮), on April 10. He showed a picture of the baby's feet, but didn't divulge on the sex of the baby. Wang Yanlin wrote, "Thank you for letting me protect one more person from here on. Welcome, baby. It's been hard on you, wifey".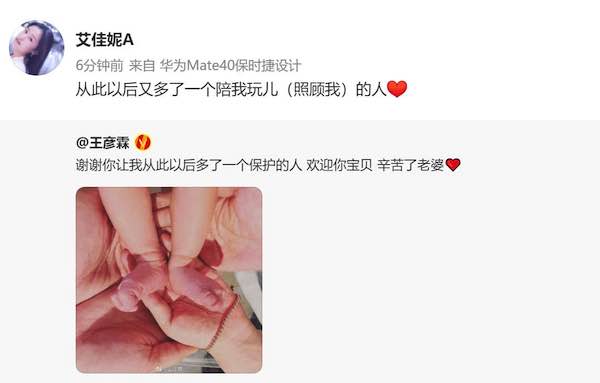 Ai Jiani reposted Wang Yanlin's posted and said, "From now on, there'll be another person to play with me (take care of me)." It's unclear what the sex of the baby is and many people in the comments have guessed it was a baby boy based on the parents' posts. However, in response to a netizen's comment about it being an Aries baby, Ai Jiani hinted it might be a baby girl: "Little Aries devil girl has arrived."
Wang Yanlin and Ai Jiani got married on May 20, 2021 and held their wedding in July of the same year. They were actually university classmates. They first revealed they were dating back in March 2021.