TVB actor, Karl Ting (丁子朗), was recently on a radio show and talked about his love life. He candidly expressed that he hoped his future partner was in showbiz because in his past three relationships, two of them were with people not in the industry. In the end, the relationships ended because the other party weren't understanding of his job and created friction. Karl Ting talked about an experience in which he had to hold hands with a female co-star for a series and his girlfriend got jealous. He also mentioned that the tough scheduling make it hard to see the other person.
Out of his three past relationships, Karl Ting admitted one of them was with someone from the industry. While he wouldn't reveal who it was, he was asked if it was his longtime rumored girlfriend, Miss Chinese International 2017 first runner-up, Serene Lim (林宣妤). Karl Ting said about his relationship with Serene Lim, "She and I are really, really good friends. Our whole friend group is very close. All of us are from overseas and returned to Hong Kong to develop [our careers]. Just like her and I, one is from Malaysia and I am from Canada. In the beginning, we didn't have much local friends. We would often meet up, especially during holidays when you don't want to spend it alone. She and I can be considered friends getting to know each other." When the host asked, "Not boyfriend and girlfriend?", Karl Ting said, "We are really good friends." On his previous rumors with his co-star, Joey Thye (戴祖儀), Karl Ting said, "This one is definitely NO!".
Karl Ting and Serene Lim's rumors started back in June 2020 when the former shared a card and wrote, "Till we fly again" with a heart and tagged the latter. Serene Lim had just left TVB and returned to Malaysia. At the time, Karl Ting explained this was a handwritten birthday card from Serene Lim that she sent to him from Malaysia. He explained they were just friends and that Serene Lim would often send her works to friends. He also said the "Till we fly again" is part of a Cathay Pacific campaign and he used the phrase to represent how he hoped to be able to fly again.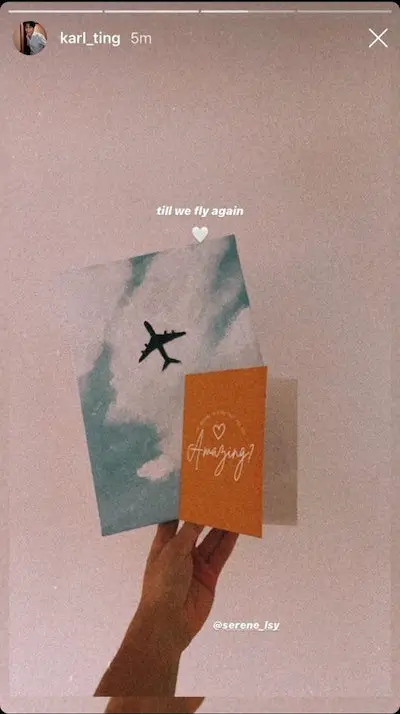 The 25 year old Karl Ting got first runner up in the 2016 Mr. Hong Kong pageant and joined TVB thereafter. He immigrated to Canada when he was 14, but returned to Hong Kong when he was 18 to chase after his dreams. He's been living in Hong Kong by himself for the past 6 years.