iQIYI's "Love Between Fairy and Devil" (苍兰诀) has been a surprise hit this summer. The series and its stars trend everyday. The team has also been doing a good job promoting the series. Viewers are particularly invested into the series and notice every detail.
The producer of the series, Wang Yixu (王一栩), had been uploading BTS clips and pictures from the series. On August 28, rumors started going viral that Dylan Wang (王鹤棣) relied on eyedrops to create tears for a crying scene when a picture of him holding eyedrops was circulated. This is reportedly the scene where "Dongfang Qingcang" loses "Orchid" and is crying uncontrollably.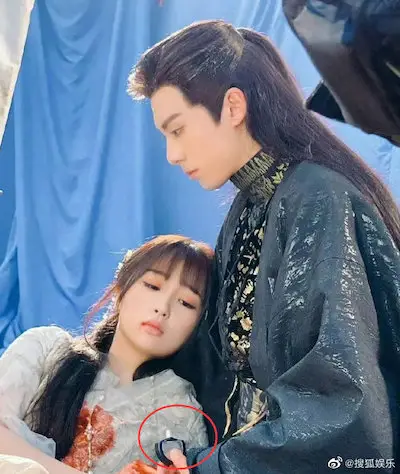 Wang Yixu immediately debunked the rumors and responded, "The sand was blowing really hard when we were filming this scene. The actors were crying really hard. Their eyes were full of sand and mixed with a lot of tears, it was really painful. For safety precautions during filming, the eyes must be cleaned and prevent them from getting infected. The BTS clip was already released. Everyone can see the situation with the crying scene. How can someone be so despicable and stir up trouble."

In another response, Wang Yixu tells someone to watch the BTS clip. The eyedrops were used because the sand was blowing into the eyes during the crying scene and it was used to prevent infections.