On September 11, Li Yifeng (李易峰) was confirmed to be the three letter male artist who was arrested on suspicion of soliciting prostitution. After the news went viral, a Douyin personality, Guo Ziyu (郭子瑜), was trending as she made a post claiming to be Li YIfeng's ex-girlfriend from a 3 year relationship.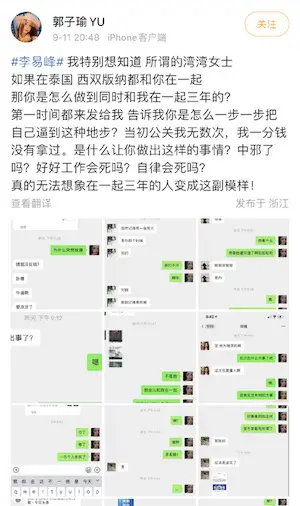 Guo Ziyu started her post questioning the timing of Li Yifeng's hookups with another internet celebrity, "Blase湾湾 (Wan Wan)". She wrote, "I especially want to know, so-called Miss Wan Wan. If he was with you in Thailand and Xishuangbanna, then how was he able to be with me for three years at the same time? You sent it to me immediately and told me how you forced yourself step by step to this point? At the time, I was PR'ed multiple times. I never took one cent before. What made you do something like this? Were you possessed? Would it kill you to just work hard? Would it kill you to have self-discipline? Really can't fathom this."
In addition, she showed some screenshots of people informing her, "Your ex-boyfriend, Li Yifeng, is in trouble." Someone also sent a picture of Li Yifeng allegedly in Thailand with Wan Wan to Guo Ziyu and asked, "How come I remember there is a picture you took at that time?"
Guo Ziyu also mentioned Li Yifeng had two hit and run incidents and that him soliciting prostitution is true. She also said she was the one with Li Yifeng in Ko Samui. One of the pictures was taken by her and claims it has nothing to do with Wan Wan.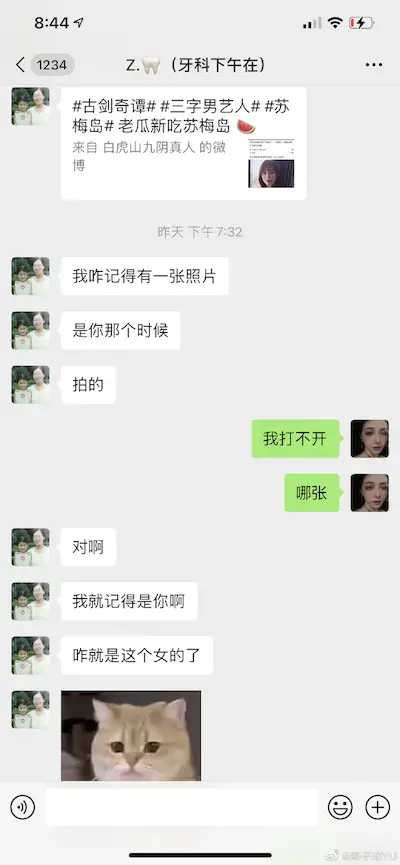 However, many netizens left comments under Guo Ziyu's post saying she is using the scandal to gain clout. They said she only has screenshots and is asking her to provide a picture with Li Yifeng or real evidence to back up her claims. Guo Ziyu responded to a comment saying she doesn't have any pictures with him. She said they never took pictures and she never secretly filmed him. If netizens want to see it, Guo Ziyu said she will consider retrieve her chat records with Li Yifeng from their 3 years together for everyone to see and to prove she isn't trying to gain clout. She reiterated that if she was trying to gain clout or get money, she could've done it earlier.