Injured MIRROR dancer, Ah Mo (李啟言 Li Kai-yin), made his first statement to the public on Mid-Autumn Festival since he has been in the hospital after his tragic accident. On September 10, Mo relayed his message to his father, Pastor Derek Li Shing-lam, who has been providing updates about his condition to the public. Pastor Li stated, "Kai-yin said to us, 'I have already accepted I will be in the hospital getting treatment for a long period of time. I will peacefully face it."
In addition, Pastor Li revealed Mo no longer needs to use a ventilator to help him breathe. Mo's condition has also changed from critical to serious, but also cautioned that as there is no ventilator helping him breathe anymore, it would cause complications as a result of mucus and phlegm buildup. He continued to ask the public to pray for Mo.
Two days after Mo's update, Richard Li (李澤楷), the chairman of Pacific Century Regional Developments, parent company of the concert organizer, MakerVille, issued a statement that he had visited Mo at the hospital a week prior. He also reiterated and promised that the company will do their best to provide assistance for this incident. In addition to the company's commitment to pay for all of Mo's medical bills, Richard Li also made a personal pledge to provide 10 million HKD to Mo's family for financial support.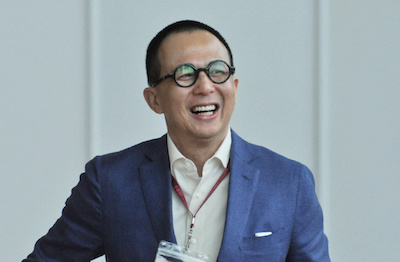 Richard Li, the son of Hong Kong billionaire, Li Ka-shing, expressed that he has been deeply saddened by all the pain and anxiety inflicted upon Mo and his family because of the accident. He had discussed with Mo's condition with his family and talked about various medical options, including different expert opinions, the latest medical technology, and other support.
Lastly, Richard Li said the company is fully cooperating with the government and the police to investigate the accident, but stated it will take time before they can find out the underlying cause and responsible party. Richard Li also expressed that while financial assistance cannot alleviate Mo and his family's pain, but he hopes to make a contribution during this hard time. He also emphasized that regardless of the investigation results, it won't affect the financial support.
On September 13, Pastor Li thanked Richard Li for his support, but also expressed that before the responsible party has been properly handled, all donations are premature.
MakerVille also said they are in close contact with the other injured dancers, Tsz Fung Chang (張梓峯), who got injured at the concert on a smaller scale, and Zisac (羅德智), who got injured during practice. They said executives had previously met with them and expressed their sympathy. They also understood their needs and will provide medical and living assistance.