Hong Kong actor, Alex Fong Chung-sun (方中信), and his wife, Hoyan Mok (莫可欣), recently attended the the Hong Kong premiere of the Japanese movie, "Haw". Alex Fong Chong-sun revealed to reporters that his workload decreased due to the pandemic and he hasn't traveled abroad for over 2 years. He only went to Mainland China once during the early days of the pandemic and had to quarantine a total of 28 days back and forth. He hopes Hong Kong's quarantine measures will be relaxed soon as he says the economy is just bleeding out and can't keep on going like this.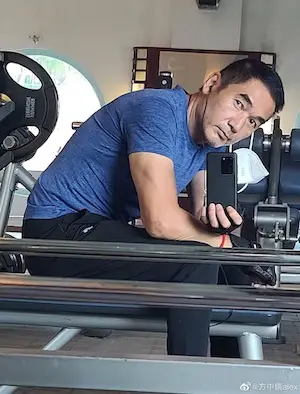 Alex Fong also said there are very few big budget movies filming right now in the market. He said he hasn't worked in more than 2 months, but says he won't consider filming web series because it's too exhausting so he'll only film movies. Alex Fong also joked that he could consider being a househusband and he plans on eating "soft rice" (being a kept man), but said that he has wanted to eat it for so many years, but still couldn't eat it.
Despite saying his workload has decreased and he wants to "eat soft rice", Alex Fong was seen wearing a Richard Mille RM11-03 watch while celebrating his wife's birthday last year. The watch is estimated to cost around 2 million HKD.