On October 14, Hong Kong singer, Jason Chan (陳柏宇), and his wife, Leanne Fu (符曉薇), announced they were pregnant again with another girl. This is their second child after welcoming their daughter, Abigail, in 2018.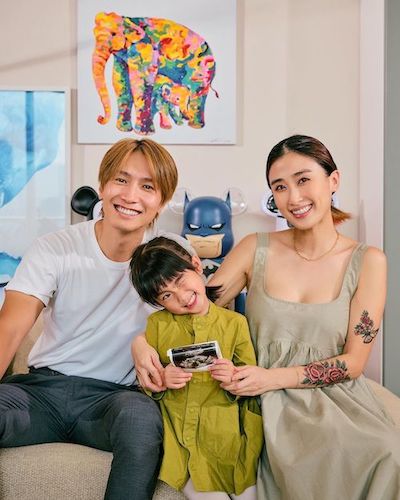 Leanne Fu wrote on IG, "Last year, I said to myself that I had no more courage to get pregnant again. This year, I can't believe the heavens gifted me this present to me. I am grateful to be able to get pregnant again. Everyday, I am carrying feelings of worry and gratitude for this hard to come by gift. I only hope younger sister can be born safely and healthily. I know a lot of people guessed it already. You guys messaged me asking if I was pregnant. I really wanted to share with everyone, but the two prior experiences left me with a lot of trauma. That's why I didn't directly respond to everyone, but my belly is growing big too quickly. Today, I share this happiness with everyone. The baby and I will add oil together."
Two years ago, Leanne Fu was pregnant again, but suffered from an ectopic pregnancy and had to have emergency surgery to remove one of her fallopian tubes. In 2021, Leanne Fu was pregnant once again, however during one of her checkups, the baby was diagnosed with Edward's syndrome. Leanne Fu and Jason Chan decided to terminate the pregnancy after their doctor advised their baby was suffering from multiple birth defects like no separation of the right and left brain, severe heart problems, no nasal bone, intestines growing on the outside, and more.
Credit: Leanne Fu IG