Malaysian singer, Gary Chaw (曹格), and his Taiwanese wife, Wu Sou Ling, have divorced after 14 years of marriage. The couple share a son, Joe, and daughter, Grace.
On November 26, Gary Chaw and Wu Sou Ling made the announcement that they have officially divorced through IG story. They explained that in the latter half of their marriage, they would "often bring the attitude of not being able to understand each other to get along". The statement said no one was right or wrong and that their split was peaceful. They hope to understand each other better now that they are reverting back to their original positions and wish each other happiness.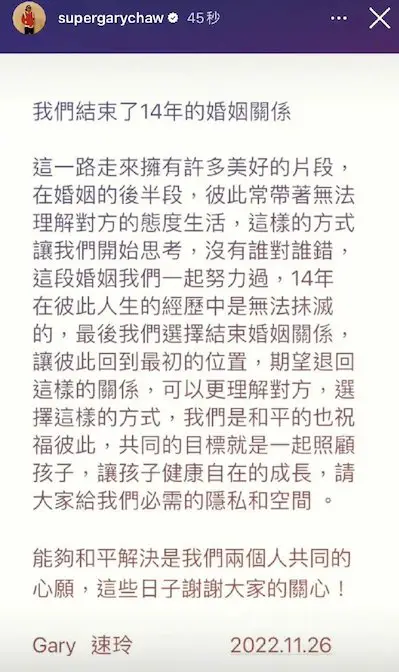 Back in mid-October, Gary Chaw posted this on IG and originally had the caption, "I don't give a f*ck anymore." It was later changed to: "I'm leaving not because I don't love you. I leave because I love you too f*cking much". Back in June, there were already rumors the couple were living separately with Wu Sou Ling moving out with their children. However, he never addressed the rumors directly.