On December 12, a gossip blogger exposed a male variety show regular with a W last name and a female actress with a Q last name were dating. They said the male actor has high romance EQ and has experience dating older women. He once dated two actresses with M and Y last names, which led to netizens speculate the male actor in question is Wei Daxun (魏大勋), who was once rumored to be dating Yang Mi. The female actress in question is rumored to be Qin Lan (秦岚).
A few days later, paparazzi released a video of Qin Lan and Wei Daxun driving together to a hotel and didn't le The next day, they were seen strolling together and Qin Lan was also spotted linking arms with Wei Daxun. It's reported the two were vacationing in Sanya, China. Qin Lan and Wei Daxun previously collaborated on the movie, "Dr. Tang" (关于唐医生的一切).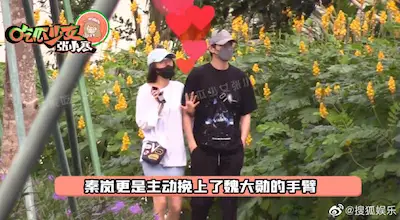 Neither party have responded to the dating rumors. In an old interview, Qin Lan once said that she wouldn't be opposed to dating younger men.