Mnet's "BOYS PLANET" held its "1st Survivor Announcement Ceremony" live on March 2, which unveiled the top 9 trainees from the first global vote. This year's top trainee will also be awarded the killing part of the group's debut track and will also be gifted their own solo song in the group's debut album. The rankings of the passing trainees was also done based on each team instead of individual announcements.
Mnet caught slack last week when they proceeded to take over 40 minutes to announce the first trainee to survive elimination, only to end the livestream and tell everyone they will announce the rest of the trainees next week.
The top 9 trainees are:
Sung Han Bin (K)
Matthew Seok (G)
Kim Ji Woong (K)
Han Yu Jin (K)
Zhang Hao (G)
Kim Gyu Vin (K)
Lee Hoe Taek (K)
Keita (G)
Jay Chang (G)
Unforunately, only the top 52 of 93 contestants made it past the first round.
10. Park Gun Wook (K)
11. Kim Tae Rae (K)
12. Ricky (G)
13. Lee Da Eul (K)
14. Kum Jun Hyeon (K)
15. Takuto (G)
16. Haruto (G)
17. Yoo Seung Eon (K)
18. Seo Won (K)
19. Anthonny (G)
20. Lee Seung Hwan (K)
21. Hiroto (G)
22. Park Han Bin (K)
23. Mun Jung Hyun (K)
24. Bak Do Ha (K)
25. Cha Woong Ki (K)
26. Chen Kuanjui (G)
27. Jung Min Gyu (K)
28. Ollie (G)
29. Wang Zihao (G)
30. Lim Jun Seo (K)
31. Na Kamden (G)
32. Ma Jingxiang (G)
33. Dang Hong Hai (G)
34. Oh Sung Min (K)
35. Cong (G)
36. Zhuang Shuaibo (G)
37. Krystian (G)
38. Yoon Jong Woo (K)
39. Lee Jeong Hyeon (K)
40. Lee Dong Yeol (K)
41. Brian (G)
42. Lee Ya Dam (K)
43. Wumuti (G)
44. Park Ji Hoo (K)
45. Chen Jianyu (G)
46. Lee Hwan Hee (K)
47. Ji Yun Seo (K)
48. Lee Dong Gun (K)
49. Park Hyun Been (K)
50. Cai Jinxin (G)
51. Choi Woo Jin (K)
52. Jeon I Chan (K)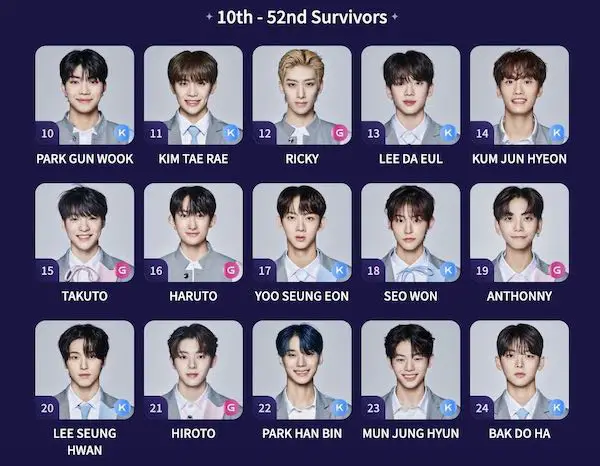 Ranked 53-93:
53. Yuki (G)
54. Xuan Hao (G)
55. Choi Ji Ho (K)
56. Wen Yechen (G)
57.Choi Seung Hun (K)
58. Kim Min Seoung (K)
59. Min (G)
60. Han Seo Bin (K)
61. Park Min Seok (K)
62. Jang Yeo Jun (K)
63. Jang Jiho (K)
64. Yutaka (G)
65. Jung Ho Jin (K)
66. Haru (G)
67. Jeon Woo Seok (K)
68. Park Gwan Young (K)
69. Chen Renyou (G)
70. Chen Liang (G)
71. Jeon Ho Young (K)
72. Ouju (G)
73. Yang Jun (G)
74. Jung Se Yun (K)
75. Ichika (G)
76. Kim Min Hyuk (K)
77. Wang Yanhong (G)
78. Nice (G)
79. Dong Dong (G)
80. Winnie (G)
81. Qiu Shengyang (G)
82. Chen Yugang (G)
83. Osuke (G)
84. Hong Keon Hee (K)
85. Han Yu Seop (K)
86. Hyo (G)
87. Kei (G)
88. Itsuki (G)
89. Toui (G)
90. Yuto (G)
91. Riku (G)
92. Lin Shiyuan (G)
93. Feng Junlan (G)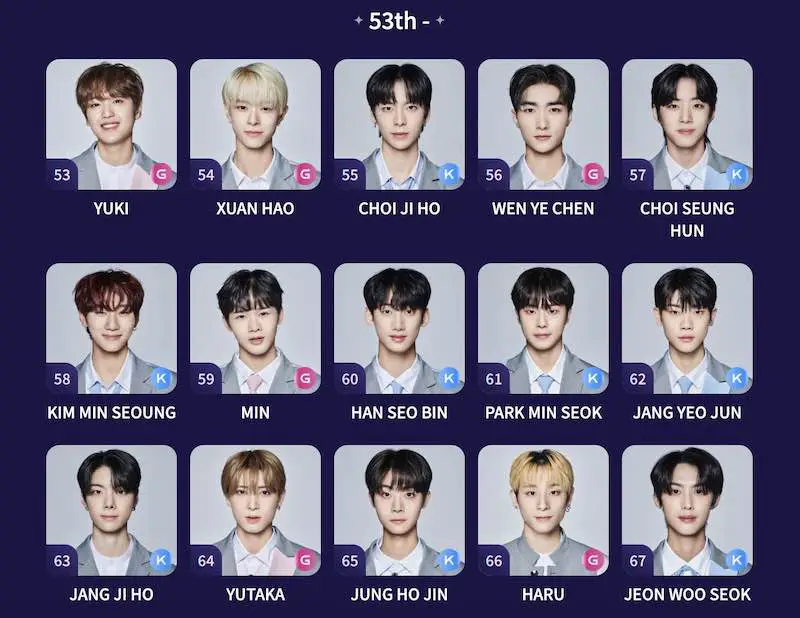 Credit: Mnet