Adrian Chau (周志文), the older brother of the Chau twins and also known for joining the first season of the Hong Kong version of "The Voice" 《超級巨聲》was supposedly seen canoodling and kissing on a floatie out at sea with long time rumored girlfriend, Moon Lau (劉佩玥).  They were outed when a friend went on presumably Instagram Story or Live detailing the yacht party filled with TVB artists.
Moon Lau Doesn't Rule Out Developing Further with Adrian Chau
TVB's "Our Unwinding Ethos" Brings Hong Kong's Urban Legends to Life
Moon Lau Clarifies Her Relationship with Adrian Chau
The video is quite blurry and the two were off to a side and not the focus of the shot.  The rumored couple are seen on one floatie and one at point, it looks like they were sitting really close to each other.  Again, the video is too blurry and can't really confirm what they were doing on that floatie.  Pictures only show the two on the same floatie with some distance from each other.  Apply Daily reached out to them for comments, but both have not responded to the report.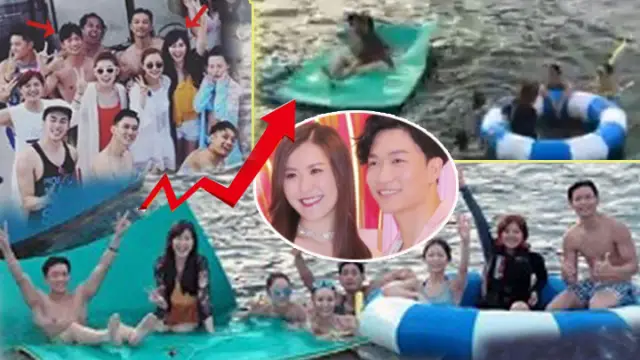 While Adrian is no longer a TVB artist, he still maintains friendships with plenty of TVB artists like Louisa Mak, William Chak, Stitch Yu, and others who were also in attendance at the yacht party.  Rumor has it, TVB terminated their contract with Adrian in 2015 due to his long and complicated history of dating rumors, which include Sire Ma, Sisley Choi, Stephanie Ho, Moon Lau, Jeannie Chan, Jinny Ng, and others. 
William Chak, who was present at the yacht party, says "there's no way they were intimate, even if they were, they wouldn't show it.  It's probably just the angle of the picture that led people to misunderstand.  I don't think they are dating.  Even I was rumored to be dating Moon before.  We're all just friends."  
Credit: Apple Daily,  HK01, hk.on.cc