ViuTV's new big budget web series, "Shadow of Justice"《蝕日風暴》, starring Chilam Cheung and Sunny Wang, has  aired in China for less than a week and already reached over 100 million views.  The series also aired exclusively on Hong Kong's ViuTV on the 22nd.  The series has the best actors and elements of suspenseful cops and robbers storyline you expect from Hong Kong movies.  The popularity is due to the fast pace storyline.
Fiona Sit Complained About Chilam Cheung Bullying Her on Set of "Shadow of Justice"
This can be considered a break though for ViuTV creating a trend of new generation Hong Kong dramas.  "Shadow of Justice" was produced by Media Asia Group with a budget over 180 million HKD, operating like a film, which was the selling point for the drama.  Aside from the stellar cast, the series also has a lot of action packed scenes that will stimulate the viewers.
Chilam Cheung Can't Compete with Sunny Wang When it Comes to Girls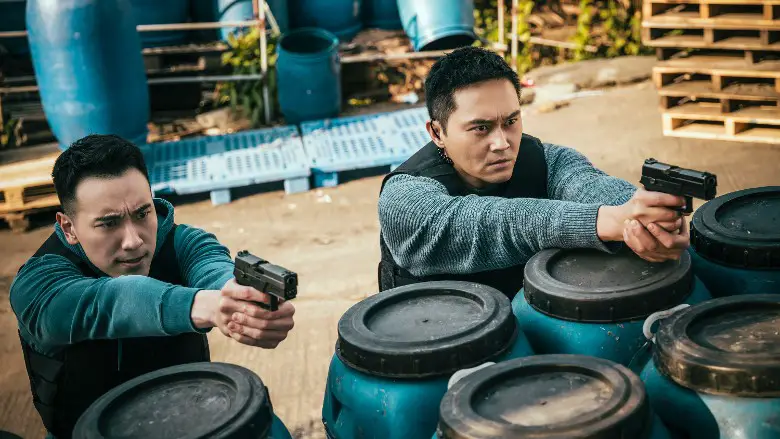 The storyline involves Chilam being in charge of the Hong Kong Narcotics Bureau, where Sunny reports to him.  The two are like blood brothers, working together to solve cases.  Until one time, they were on a mission overseas and suffered an ambush.  Sunny's whereabouts were unknown and Chilam was accused of betraying the police force.  Chilam has no choice, but to flee the country.  As for Sunny, who was missing for a long time, falls into temptation and steps into a world of evil.  
The series can be watched for free on Viu.com in the following countries: 
Hong Kong
Singapore 
Thailand 
Philippines
Indonesia
UAE
Bahrain
Egypt
India
Iraq
Jordan
Kuwait
Malaysia
Oman
Qatar
Saudia Arabia
Myanmar 

Credit: hk.on.cc