Yang Mi (楊冪) and Hawick Lau (劉愷威) have been embroiled with rumors of martial issues since they've been married.  It doesn't help that Hawick Lau has been in the headlines the past few days because of a post that spread rumors of him and wife, Yang Mi, allegedly being divorced two years ago.  Hawick's studio has already denied the rumors and made it clear he didn't know the wealthy female fan, Britney, that made the claims.  
A Look at Hawick Lau and Yang Mi's Seven Year Relationship
Hawick Lau and Yang Mi Announce Divorce
Hi there! If you enjoy reading the articles, please help support the site by turning off your ad blocker and clicking on an appropriate ad or share the site on social media.  It would mean a lot to me and help run this site as I am a one person team.  Do feel free to drop a comment on the articles.  Thanks!
Hawick Lau and Yang Mi Rumored to Have Divorced Two Years Ago, Busty and Wealthy Female Visits Hawick on Set
Hawick Lau Denies Knowing Wealthy Female Who Spread the Divorce Rumors
Since the rumors came out, Yang Mi has not responded to the claims.  As today is Mid-Autumn Festival, she posted a picture of only herself on Weibo, wishing everyone a Happy Mid-Autumn Festival.  There is no sign of hubby, Hawick or their daughter, Noemie.  However, Yang Mi looks happy in the picture.  It seems the rumors are not bothering her at all.  Netizens are wondering if Yang Mi will be posting a family picture to shut down the rumors with action rather than words, like they have in the past.    
No Birthday Wishes from Yang Mi for Hawick Lau This Year, Breaks Five Year Tradition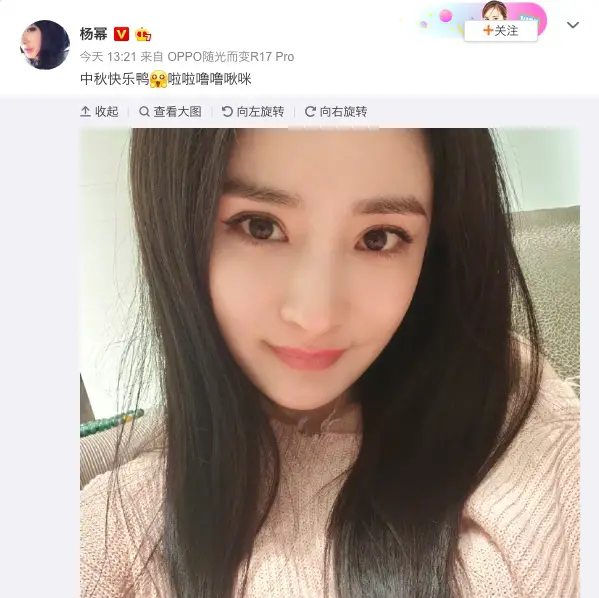 Credit: hk.on.cc, Yang Mi's Weibo