Hong Kong singers, Joey Yung (容祖兒) and Denise Ho (何韻詩) used to be BFFs once upon a time.  The two were even rumored to be dating at one point because they were so close.  In 2009, it was reported Denise Ho took time off from her busy schedule to  celebrate Joey Yung's birthday with her in Tokyo.
Joey Yung Denies Dating Rumors with Married Man, Gavin So
Wilfred Lau Shows Support for Joey Yung and Calls Denise Ho a D*ckface
The two stopped being friends in 2012 when fellow singer, Wilfred Lau (劉浩龍) announced he was in a relationship with Joey Yung.  This would be shocking news to Denise Ho as she and Wilfred Lau were actually in a relationship before.  What is even more shocking is when Denise Ho came out as a lesbian a few months after their dating announcement.  It is reported Denise Ho didn't know the two were dating at the time.  When she heard the news, she was in shock and unfollowed Joey Yung and Wilfred Lau on all social media platforms.  At the time, Denise Ho even publicly said she wouldn't congratulate the two.
Joey Yung Collaborates with Big Bang's Seungri on New Song
Suddenly in 2015, Joey Yung started following Denise Ho again on Instagram with Denise following her back.  However, the two still didn't have any interaction in public whatsoever until now.  Anthony Wong (黃耀明), lead singer of duo, Tat Ming Pair, posted a picture of himself with fellow singer Miriam Yeung, Joey Yung, and Denise Ho in Tokyo.  It turns out the trio flew to Tokyo to support Anthony Wong's concert.  When fans saw their long anticipated reunion, they rejoiced.  Denise Ho even commented on Anthony Wong's post saying, "You guys need to calm down." and added the hashtag "#calmdownpeople."  It is said Wilfred Lau was also there to accompany Joey Yung, maybe he was the one taking the picture.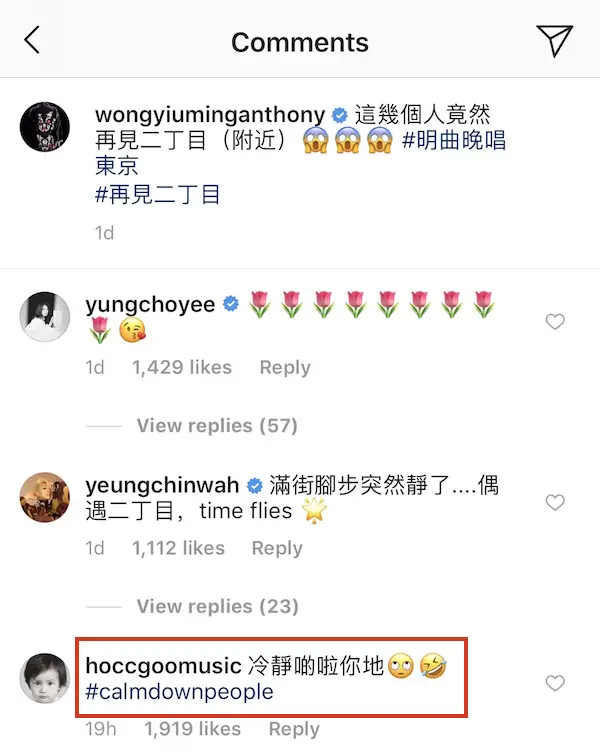 Credit: Ming Pao, hk.on.cc, Anthony Wong IG