Joey Yung (容祖兒) is set to start her 18 series concert tour, "Pretty Crazy Joey Yung Concert Tour" soon. She had uploaded a video on her Instagram account showing her spraying air purifying spray in the room while rehearsing. Denise Ho (何韻詩) left a comment saying, "chilasin", which translates to something along the lines of "f*cking crazy", and a laughing emoji. Joey Yung liked the comment, but fans weren't having it with some leaving comments such as "Don't bother my Joey.", "Wait until Joey Yung finishes her concert before you cause trouble." There were also netizens who supported Denise Ho and mentioned Joey Yung already liked the comment.
Joey Yung Denies Dating Rumors with Married Man, Gavin So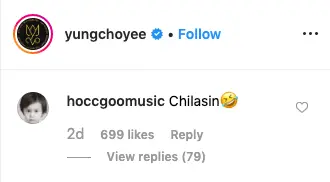 Joey Yung and Denise Ho Reunite After Six Year Grudge
Joey Yung Collaborates with Big Bang's Seungri on New Song
However, the most vocal netizen might be her and Joey Yung's ex-boyfriend, Wilfred Lau (劉浩龍). He used his private Instagram account under the alias, "_7_", with a picture of him standing on a stage as his profile picture and uploaded a picture of a car with the license plate, "MY JOEY", along with the caption: "There are a lot of bad people in this world, like Denise Ho, that d*ckface." (呢個世界好多壞人, 例如何韻詩個X樣). The account is followed by Joey Yung and Real Ting.
Perhaps Wilfred Lau thought his ass-kissing wasn't enough. He used his public account and left another comment on one of Joey Yung's post. Oriental Daily News tried to reach all three of them for a comment, but no one has responded.
Six year grudge
The three have quite a complicated history together. Denise Ho and Wilfred Lau were once a couple. After breaking up, Joey Yung and Denise Ho also became friends. Somehow, they all became friends. It wasn't until Wilfred Lau and Joey Yung announced they were dating in 2012. Denise Ho disassociated herself from the two and said she wouldn't congratulate them. They held this grudge for a few years until Anthony Wong (黃耀明) posted a picture of them with him in Japan for his concert last year. Who would've thought Wilfred Lau and Denise Ho would end up like this?