If you haven't gotten sick of all the media coverage on Ruco Chan (陳展鵬) and Phoebe Sin's (單文柔) wedding, then here is another treat for you.  Ruco Chan and Phoebe Sin got married this past Saturday (October 13) and even though the two claimed they were going to keep it intimate and private, it was far from it.  While the main wedding celebration was mostly attended by his former ATV co-stars, close friends, and family, the newlywed couple decided to have a second celebration with their other industry friends.
Ruco Chan and Phoebe Sin Announce Pregnancy
Ruco Chan and Phoebe Sin are Married + Wedding Day Coverage
Nancy Wu Explains Why She Wasn't Present at Ruco Chan and Phoebe Sin's Wedding, Addresses Discord Rumors with Alice Chan
Not used to being called Mrs. Chan
Phoebe Sin was asked if she was used to being called Mrs. Chan, she responded, "It has only been one or two days.  I'm not really used to it yet, but I am happy."  When a reporter asked if they called each other "husband" and "wife" at home, she said, "We use our English names more.  Nothing has really changed yet.  But when someone calls me Mrs. Chan, I will remember my other identity and learn how to be a wife.  I have to try my best to take care of him."  Ruco Chan defends his wife and says, "It's just a name.  Being yourself is more important.  Friends are being respectful calling her Mrs. Chan."  When asked if he tried Mrs. Chan's cooking, he replied, "She's pretty good.  I tried it before during "Cooking Beauties" (美女廚房).  She's cooked a lot of dishes before, but she tends to cook more soup."  
Phoebe Sin and Ruco Chan Getting Married on October 13, Releases Chinese Style Wedding Pictures
When asked which friends he invited, Ruco Chan says, "I just sent it to my friends asking them to send it to everyone.  There were a lot of times I didn't know if I could attend a banquet, so I did a more casual party.  Everyone comes for a bit and then leaves, no need to reserve seats for the entire night.  Also, both sides families wanted to keep it private.  I'm not that good of a drinker, but I can try.  I haven't gotten drunk in so long, but Phoebe has work tomorrow, so I'll still have to limit myself."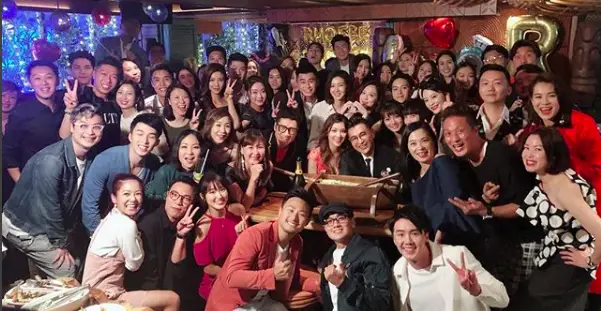 The two held their wedding celebration with friends at Myolie Wu's (胡杏兒) husband, "Wahtiki Island Lounge" in Central today.  When asked why he chose this location, Ruco Chan says he's always had drinks with Myolie Wu's husband, Phil.  Choosing this location would be more convenient and get a bigger discount.  Rumored girlfriend, Nancy Wu, was conveniently flying back from Los Angeles and couldn't make it to the party.
Credit: hk.on.cc, Bob Cheung IG