Although TVB actor, Mat Yeung (楊明) is only 37 years old, he has been in TVB for 20 years.  He started at 17 and has been through a lot of struggles to finally get to stand in the first row at this year's "TVB Anniversary Light Switch Ceremony."  Mat Yeung started out playing small roles and even got in trouble with the law a few years back.  For some reason, someone high up in TVB likes him and decided to give him a second chance,  something they don't do often.  Though it wasn't easy, he had to start over from scratch again.  
Mat Yeung Accused of Being a Kept Man, Lisa Ch'ng Clears the Air
Mat Yeung Reveals Why His Prior Engagement Ended in Break Up
Mat Yeung and Samm Ko Ling Partner Up in New TVB Series about Cyber Security
TVB held their annual lighting ceremony for their 51st anniversary today.  As per usual, the first line actors and actresses would be arranged to stand in the first line with the heavy hitters of TVB.  This year, there are quite a few newcomers in the first row, including Mat Yeung, who is the second male lead in TVB's anniversary series, "Fist Fight" (兄弟).  
Mat Yeung Only Has Eyes for Samm Ko Ling in "My Commissioned Lover"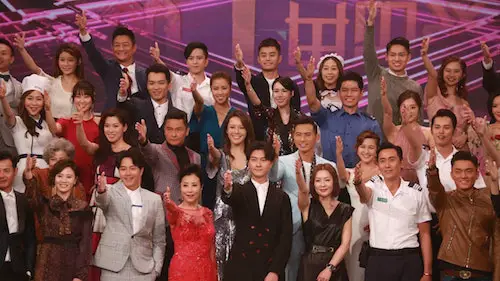 Mat Yeung Clarifies Why He Didn't Take a Breathalyzer Test at Scene of Car Accident
Mat Yeung revealed, "This year I received a letter telling me to get my 20 year service gold medal.  The letter included a dinner invitation.  I've waited a long time for this medal.  I have to thank TVB these past few years for giving me opportunities.  I am very happy I can keep advancing.  I hope in the next 10 or 20 years, I can be even greater.  I think today was good encouragement.  I started from the bottom, graduated from the artist training class.  From being a prize presenter to standing all the way at the top to stepping down row by row, I can finally experience standing in the first row.  I hope next year I can be even closer and do the actual lighting ceremony." 
Credit: hk01.com