Mat Yeung (楊明) was involved in a car accident in the wee morning hours of August 8. When the news first hit, there were rumors that he "smelled of alcohol all over his body" and refused to take a breathalyzer test at the scene of the crime, suspecting Mat Yeung had alcohol intake in his system. Pictures were also shown of Mat Yeung being assisted by police officers to the ambulance. No one else was injured.
Mat Yeung Suspected of DUI After Crashing Car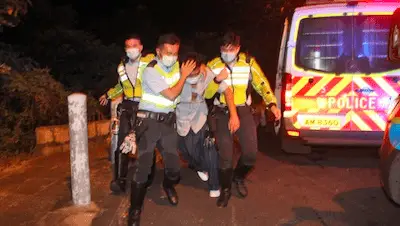 After 20 Years, Mat Yeung is Finally Standing in the First Row
In an interview with TVB's "Scoop" (東張西望) talking about the incident, Mat Yeung explained, "Around 1 something in the morning, I drove back to my work studio to read a script. When I reached a corner at the peak, the steering wheel was swerving left and right and then I crashed into the rock pavement. The car was entirely hung up. Once I crashed, I had already blacked out. I had no more memories. How I crashed and how I stopped, I'm not even sure anymore. Afterwards, I saw the news report saying the police were holding on to me, said I needed someone to hold on to me because I drank alcohol. It's actually because I was quite dizzy because of the car accident. I wasn't in a very clear state of mind. I couldn't do the breathalyzer test at that moment. The police wanted to save me right away because the car was hanging on the side of the mountain. There is definitely some danger to it. Afterwards, I was sent to the hospital for treatment and an investigation."
After 20 Years, Mat Yeung is Finally Standing in the First Row
Mat Yeung and Samm Ko Ling Partner Up in New TVB Series about Cyber Security
According to TVB executive Virginia Lok (樂易玲), she said their initial understanding is that he suffered minor injuries after getting into a car accident on his way home. She explained that he might have been too stressed and tired which led his car to lose control and crash against the roadside barrier. The company will engage further to understand the situation and provide assistance to Mat Yeung as needed.
The Police Public Relations Branch (PPRB) responded to Mat Yeung's accident and said he was arrested for "refusal to provide blood samples". He has already been released on bail. As for why Mat Yeung refused to take a breathalyzer test, the PPRB responded, "Investigating the details. We are not sure." It's reported Mat Yeung has to report to the police in early September. Mat Yeung has said he will leave the matters up to the lawyers.
Credit: hk.on.cc (1, 2), Mat Yeung IG