A contestant from Tencent's male idol survival show, "Produce Camp 2019" has withdrawn from the show. Tencent issued a statement on their Weibo account today saying:
"Student, Wang Chenyi (王晨艺), reached out to the show to withdraw from the competition due to personal reasons. Both parties had an open discussion on the matter and have reached a consensus. Wang Chenyi left the "Produce Camp" stage the same day.
We are deeply grateful for each student and male group producers' efforts. The show will eventually end, but training won't stop. Looking forward to each student that has either left or stayed at the camp and always carry the pureness and innocence of a child, continuing to brave the wind and waves throughout this journey."
R1SE Gets Candid about Disbanding and Being a Time-Limited Group
"Produce Camp 2019" Debuts 11 Member Group, R1SE
A contestant leaving the show shouldn't be big news, but the topic of "Wang Chenyi Withdraws" was trending on the Weibo hot trending list because fans suspect he was forced to withdraw. Many netizens left comments under this post expressing pity and sadness over Wang Chenyi's departure and are demanding an explanation from the show and justice for Wang Chenyi. Some netizens are saying Wang Chenyi was forced by the show to withdraw due to online bullying from other contestants' fans.
Alec Su Raps about Karry Wang Junkai's Dad in Debut Episode of "Produce Camp 2019"
One comment on the post said: "Chenyi has experienced an insurmountable amount of online bullying. The show was being pressured and threatened by netizens. On the 21st, they contacted Chenyi and his manager to withdraw from the show. Fans were forced to ask the show for an explanation. On the 22nd, the show tried to appease the fans, pretended like everything was normal and arranged a Shanghai fan meeting event. After the sponsored event was over, the show immediately arranged for Chenyi to fly back to Beijing. From then on, Chenyi has lost contact with the world. Facing this type of crazy online bullying, please give fans a reason for withdrawing the competition."
"Produce Camp 2019" Gives Sneak Peek of Trainee Dorms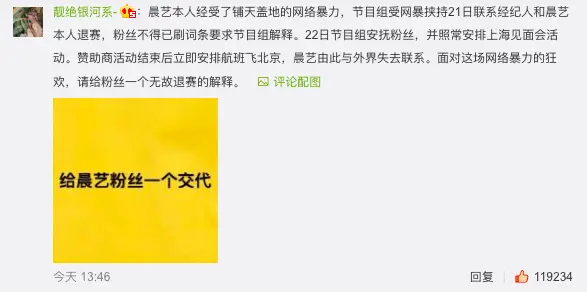 Will Tencent's "The Coming One: Girls" Achieve Same Success as "Produce 101 China"?
Fans reported Wang Chenyi was crying at the Shanghai fan meeting and even promised them he wouldn't leave the show.
There was another rumor coming from Douban (Chinese discussion forum) claiming, "From a few days ago, Tencent had started meeting with each management company. Wang Chenyi also went. A lot of companies refused to debut with Wang Chenyi. It was mainly two companies who were firm (on not working with Wang Chenyi), but these two companies don't even have a debut spot. One of these two companies don't even have a spot for the finale. His departure was confirmed yesterday. There are personal reasons and also internal strifes (within Tencent) over capital contributing to his departure. Basically, it's because of the company's executives fighting against each other. His departure isn't entirely personal. The trending topic was already prepared ahead of time."