Singaporean music duo, BY2, joined the third season of Tencent's female singer competition, "The Coming One: Girls" (明日之子水晶时代), looking to debut again. Many have wondered why the group, which consists of twin sisters, Yumi and Miko, joined the competition after achieving success in their 11 year career. As it turns out, BY2 wasn't active for two years due to contractual issues with their management company, Ocean Butterflies Music. The sisters revealed in their introduction they were at their lowest point for 3-4 years. Yumi had said, "These 3-4 years were a big life challenge. Everyone around you betrayed you." Miko also hinted that these problems they countered were attributed to work and relationships, saying, "It feels like being given up on by someone."
Contestant on "The Coming One: Girls" Pisses Off Rocket Girls 101's Meng Meiqi
Will Tencent's "The Coming One: Girls" Achieve Same Success as "Produce 101 China"?
As it turns out, their last album, "Love on Love," was released in 2017, but the album only consisted three new songs, while the other ten tracks were remixes of their old songs. After that, the sisters rarely made appearances as artists, making many to wonder if they had left the industry. Miko had once revealed on the show, "It was very hard because we have always been here. It's just that we can't say or do anything." It wasn't until January of this year that they announced they had parted ways with their record label of 11 years, Ocean Music Butterflies, allowing them to make a comeback. Based on their choice of words, many netizens suspect BY2 was frozen by their company.
After four episodes of the show, BY2 are still hot favorites to win the competition with the most stage experience out of all the trainees. However, because of this, they have been held to a higher standard by the judges. On the fourth episode, the sisters let it all out and get candid with each other. Younger sister, Yumi, tells, Miki, "There are times where I don't want to not rely on you, because if I don't rely on you, I don't know who else I can rely on."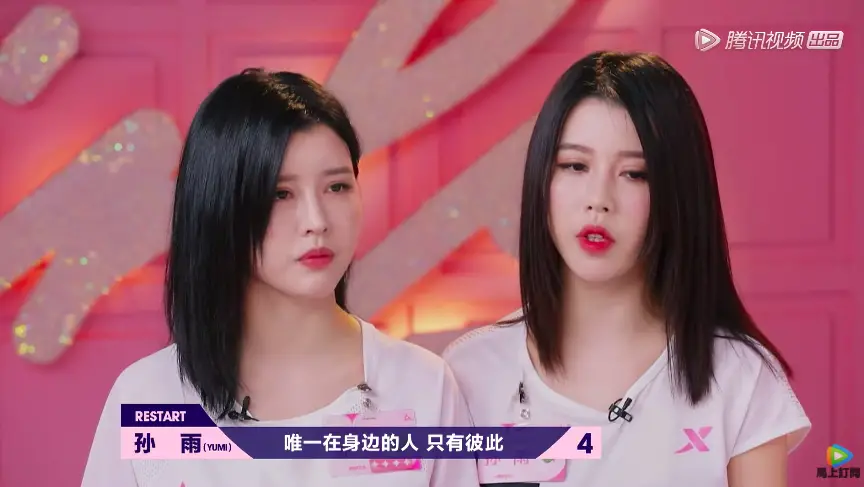 It wasn't always an easy path for BY2's road to success. They left Singapore when they were 13 to become trainees under Ocean Music Butterflies program. In 2007, their father passed away before he could witness their debut. They relocated to Taiwan after signing a 10 year contract with Ocean Butterflies Music. There were also a lot of criticisms for the sisters changing looks throughout the years, with many labeling them as "Plastic Face Sisters." With all this culminated, Miko had said, "There really is no feeling of family." on their 11 year journey to stardom.
BY2 is treating this chance as their last hurrah to shine again and not to forget their initial intentions. While they are known for their dancing and catchy songs, they chose to tackle a slow song for their performance. It wasn't just any slow song either, they chose to sing Lady Gaga and Bradley Cooper's Oscar winning song, "Shallow." The gamble paid off as they slayed the performance and proved their versatility as singers. After the episode aired, many netizens left comments such as: "The best out of everyone present! That high note was earth shattering.", "I really cried hearing it.", "I really got goosebumps! I really didn't think their singing ability would be at this level.", "My god, this sounds too good.", "These two sisters really have abilities." As of of the end of the 4th week, they are sitting at the No. 2 spot with over 41 million votes.
BY2 singing "Shallow" on "The Coming: One Girls", Episode 4 Cut:
Full Episode for Week 4: