Tencent's "The Coming One: Girls" (明日之子水晶时代) aired its first official episode on June 22 and like many singing competitions, there was a fair share of dud contestants. One particular contestant, Chen Shujun (陳姝君), angered the entire judges panel, but Rocket Girls 101's Meng Meiqi (孟美岐) was especially bothered by her performance.
Rocket Girls 101's Wu Xuanyi Gets Irritated by Middle Aged Man Filming Her at Airport
Chen Shujun claims she's a singer. However, when she introduced herself, she said her nickname is "Paddling Monster" (划水怪). The term "paddle" (划水), when used in the entertainment industry, is usually meant to say the artist's performance is soso, half-assed or to say someone is lazy. Chen Shujun used the phrase in a way that made her sound like she was very proud to have this moniker. She then tells them, "I actually don't really like to sing, but I am the type to have crazy luck. Afterwards, I was selected, you know, then I came here." When Stefanie Sun (孫燕姿) heard her introduction, she gave a WTF?! expression.
BY2 Prove They Can Also Sing with Performance of "Shallow" on "The Coming One: Girls"
Will Tencent's "The Coming One: Girls" Achieve Same Success as "Produce 101 China"?
Once she started singing, every judge was not pleased and some look downright upset. She was off key several times and there was a moment where she even realized it. After she was done, Hua Chenyu (华晨宇) was really frank with her and said, "I have no way of rating you because you also know, you weren't singing seriously."
Netizens Defend Rocket Girls 101's Sunnee After She's Caught Smoking
Long Danni (龍丹尼) told her, "Do you know you weren't singing well?" Chen Shujun responds, "I think I felt it." Long Danni continues saying, "I saw your resume and it said you had a nickname "Paddling Monster," but I really hope you don't turn this phrase into your label."
"Produce Camp 2019" Debuts 11 Member Group, R1SE
At this moment, Meng Meiqi is already pissed off and had to vent out her frustrations at this contestant. She goes, "Can I say a few words? I think you are a very lucky." Before she can continue, she starts to cry and pauses. She continues saying, "I have never been a very lucky person. All that I have accomplished today was a result of my hard work, my seriousness, my sacrifice, that got me to where I am today. I would never "paddle" [half-ass]. I am so emotional to the point I am in tears is because I feel…why would you treat such an opportunity like this, such a stage like this?"
"The Coming One: SUPERBAND" Contestant, Neil He, Calls Out Zhou Zhennan After Dropping Out from Competition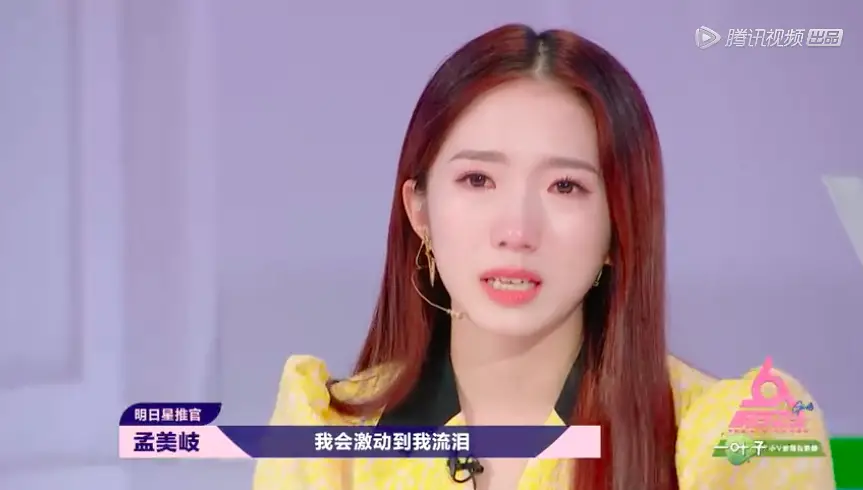 Meng Meiqi Talks about Being Awarded "Most Disappointing Actress" at the "Golden Broom Awards" for the First Time
In the backstage interview, Meng Meiqi explains, "I don't dislike lucky people, but they shouldn't be adopting mentality where they depend on luck. Your ability is not enough, okay, but you can't be on stage doing things in a performance that don't respect the stage. You must have a serious attitude."
Needless to say, Chen Shujun didn't make the cut. When one of the judges told her to wait outside for her results, she said, "I am not waiting.", in tears and immediately waves to the judges and leaves.
Credit: ETtoday.net, Tencent