TVB's currently airing series, "Girlie Days" (她她她的少女時代), is getting decent reviews. The series talks about a 40-something housewife, Kristal Tin (田蕊妮), who goes through a divorce after her husband suffers a mid-life crisis and leaves her for a younger and more exciting woman. Claire Yiu (姚嘉妮), who plays, "Janice", encourages her to start fresh, as someone who gone through the same thing. Many netizens praised "Janice's" appearance was very eye catching, especially her fit body.
Kristal Tin Has a Love Triangle with Raymond Cho and Johnson Lee in "Girlie Days"
Claire Yiu spoke with hk01.com and expressed she spent a lot of time and effort to build up "Janice's" image as she is a divorcee who has a lot of free time looking pretty. Luckily for Claire Yiu, she's used to the pressure being that she was a Miss Asia second runner up. At 41 years old, she already has a son and a daughter, but doesn't look like her age at all.
There is a scene in the series, where she is coming out of the pool, and catches "Desmond's" attention, played by Joey Law (羅天宇). He plays a rich and handsome owner of a gym. He falls in love at first sight with "Janice" once she comes out of the water. Claire Yiu explains, "I have a few romantic scenes with Joey. His father is my teacher, so I do appear at his home a lot. He thinks this older sister really adores him and treats him well, so thats why he has feelings towards her and likes her. However, we all misunderstood him because he said he likes older women, so we thought he liked Kristal. We even encourage Kristal to go for him, but we later discover that he likes me."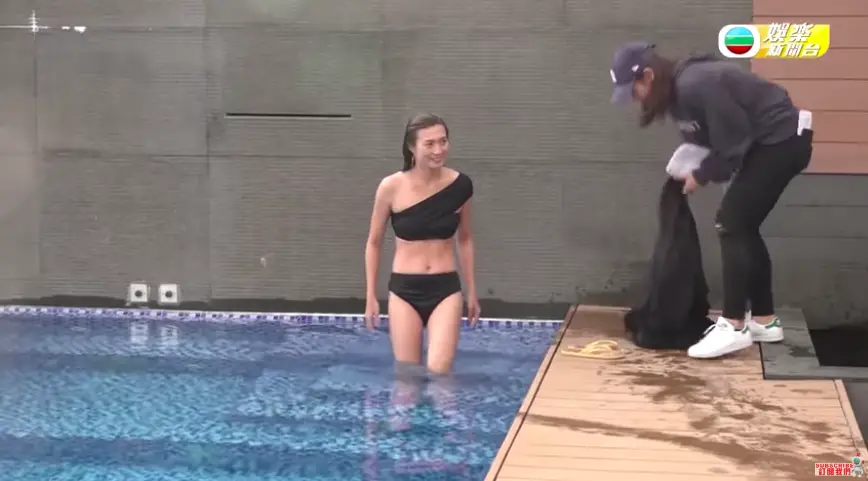 While Claire Yiu doesn't reveal the level of intimacy the two will have in the series, she praises Joey Law saying, "The script was well written so it's very natural. Joey will discuss with you on how to do the scene well. He will always ask for your opinion first and then act out the scene. Acting with him him is very comfortable."
Credit: hk01.com, Claire Yiu IG