After announcing his departure from Johnny & Associates and J-Pop group, Kanjani8, last month, Ryo Nishikido set up his own website and opened social media accounts, including Instagram, Twitter, Youtube, and Weibo.
Some Netizens are Disappointed the Chen Kun and Ni Ni Dating Rumors aren't True
[UPDATE] Former KAT-TUN Member, Jin Akanishi, and Meisa Kuroki Immigrating to the United States
As he is making the rounds creating posts on his new social media accounts, his first Weibo post got the attention of Chinese actor, Chen Kun. On his first post, Chen Kun left a comment saying, "You're here. Welcome." As it turns out, many Chinese netizens have felt Chen Kun and Ryo Nishikido resemble each other. Last year when Ryo Nishikido was in Taiwan to promote his movie, his pictures from the press conference got the attention of netizens. They tagged Chen Kun and he liked the post and left a comment saying, "Handsome."
Chen Kun Lookalike, Chen Yichen, in "Heart Signal II" is a Hit with the Ladies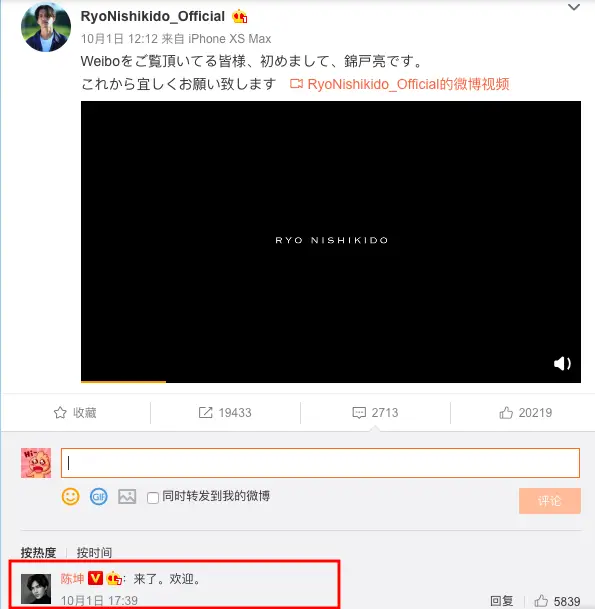 When netizens saw his comment, they were excited and left a slew of comments. One netizen said, "#China's Ryo Nishikido Welcomes Japan's Chen Kun". Another netizen left a comment saying, "Witnessing history…relatives reunited at the scene." Do you think they look alike?
Ryo Nishikido's former label mate and good friend, Jin Akanishi also welcomed him on Weibo. He created a post and tagged Ryo Nishikido saying, "It's a whole new world baby. Happy Birth Day to Ryo Chan's fans in China!" Many netizens left comments on the post saying, "Just missing one more, then the park will be complete." Fans had created a moniker from the names of the four good friends, Yamapi, Jin Akanishi, Ryo Nishikido, and Kazuya Kamenashi, which make up "PARK". As Jin Akanishi, Yamapi, and Ryo Nishikido already have Weibo accounts, the fan was referring to waiting for Kazuya Kamenashi to open a Weibo account to complete "PARK". However, as Kazuya Kamenashi is still with Johnny & Associates, it probably won't be happening anytime soon.
Yamapi Joins Instagram and Breaks the Internet