SM Entertainment's collaboration group with American record label, Capitol Records, SuperM debuted on October 4. Their debut was met with a lot of excitement and anticipation. A lot of international fans were also present at SuperM's October 5th showcase. However, no one was more lucky than these two Chinese fans who managed to bump into Lee Soo Man, the founding father of SM Entertainment, gave him their number, and met SuperM backstage.
Netizens Dig Up Past on WayV Member, Lucas
Cast Members Get Candid in "Keep Running" Season 3 Finale
Two Chinese fans recounted how they met Lee Soo Man while shopping in Beverly Hills on October 5. Weibo user, 巧克力可頌, shared, "We walked around Beverly Hills this afternoon and encountered Lee Soo Man. Afterwards, I went up to him to acknowledge him. Afterwards, we had an exchange about philosophical thoughts, then he praised me for working hard. F*ck, he asked for my number to let his assistant bring me to the VIP standing area and backstage. Then, there is this photo. Hurry and be envious of me. Wuwuwuwu."
"Keep Running" Debuts First Episode of Season 7 to Mixed Reactions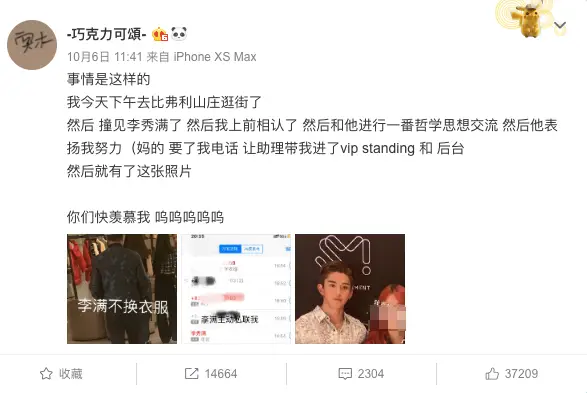 She uploaded a picture of Lee Soo Man's back and her call history saying, "Lee Soo Man initiated to call me". She split her picture with SuperM as she didn't want to be shown.
Her friend by the name of Min_99_Amo, also uploaded her account of meeting Lee Soo Man.
She shared, "Walking around and met Lee Soo Man. Asked us where we are from. I said we are Chinese and came to see the showcase. Talked about my life. I said I really like Xiumin. He comforted me and smiled and said, "He is a really good boy". Hearing this sentence, my tears almost rolled down. Maybe he saw my eyes were red. He added another sentence, "He knows how you guys feel." In the end, my eyes got even redder. Afterwards, Lee Soo Man asked, "Maybe you guys want a group picture?" We agreed immediately. Lee Soo Man said to leave our number for his assistant to contact us later. So lucky. My life's highlight."
Credit: Min_99_Amo
The friend also said, "Today's highlight of chasing after celebrities. I can't believe it. P.S. Encountering Lee Soo Man beats encountering anyone else." Netizens left comments saying, "It's unbelievable!", "It's like a dream.".