The season 3 finale of "Keep Running" (奔跑吧3) aired today and it was a special one because each cast member brought a family member or friend to the show.
Rumored Cast Changes for "Keep Running" Season 4
Angelababy brought actor, Jing Boran (井柏然)
Song Yuqi (宋雨琦) brought Chinese member in K-Pop group, PENTAGON, Yan An (闫桉)
Li Chen (李晨) brought actor, Xiao Shenyang (小沈阳)
Lucas brought his group member and leader of WayV, Qian Kun (钱坤)
Zheng Kai (郑凯) brought his manager and assistant, Zuo Chao (左超)
Wang Yanlin (王彦霖) brought Nine Percent's Chen Linong (陈立农)
Zhu Yawen (朱亚文) brought his wife and actress, Shen Jiani (沈佳妮)
Li Chen Rumored to be Dating Singaporean Heiress
There is a segment where each cast member and their guest are on the hot seat and get asked candid questions. When it came to Chen Linong's turn, he is asked who he would replace if he can become a permanent cast member in the next season. Chen Linong is shocked at the question, but he gives a very smart response. He asks, "Why must we replace someone? Can't we just add another person?" The crew member tells him no and that if he joins, the other person must leave. Chen Linong then says, "I think Yanlin is tired lately, so I'll help him go to work and he can rest."
Wang Yanlin and Chen Linong
Nine Percent's Chen Linong Saves a Fan From Falling Like a Boss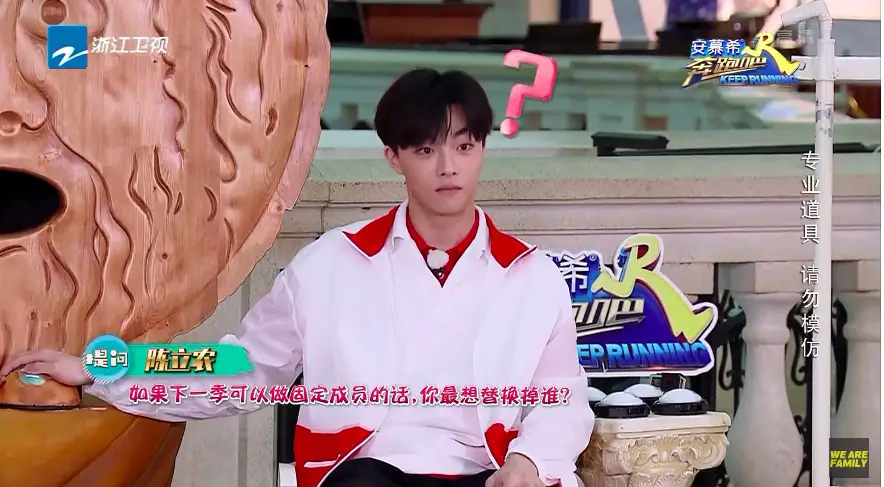 Charmaine Sheh Shows Wang Yanlin Who's Boss in "Keep Running"
For the second question, Wang Yanlin is asked to choose who is better looking between Chen Linong and Lucas. Wang Yanlin responds, "Mine are better than theirs." He gets punished and when he gives it another go, he goes, "Truthfully, I am handsome." The both of them get punished again. Lucas makes matters worse when he tells Wang Yanlin to imagine himself to be a girl, which type he would like more.
Fan Bingbing and Li Chen Announce Break Up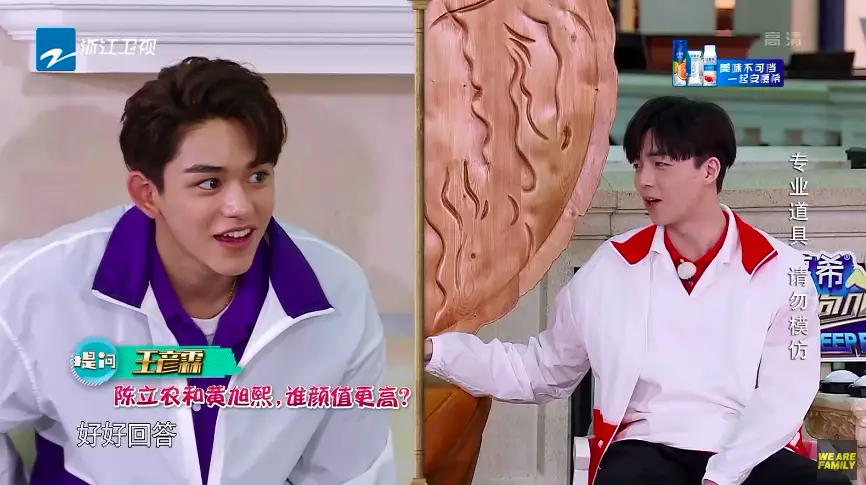 New Cast Members Confirmed for Season 7 of "Keep Running"
Zheng Kai adds fuel to the fire when he said, "If I was a girl, I would definitely choose a type like Chen Linong, because who would like a scallop?" This was a reference to last week's episode, where Lucas had to pretend to be a scallop. Lucas then says, "I already don't have an image in this show." In the end, Wang Yanlin showing his brotherhood with Chen Linong, chooses Chen Linong saying, "My brother. My brother is the most handsome. It's definitely my brother who is the most handsome." Chen Linong jokingly yells at Wang Yanlin and says, "Now you say it?!"
"Keep Running" Debuts First Episode of Season 7 to Mixed Reactions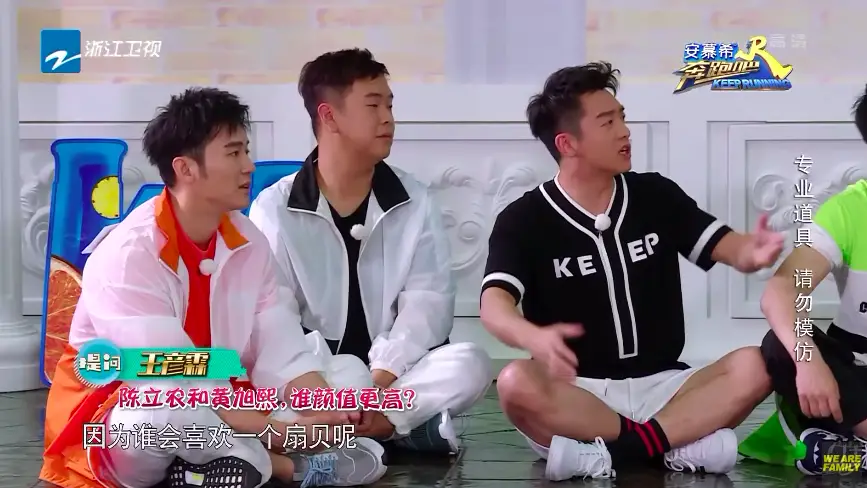 Xu Kai and Jackson Wang Seen Filming Together for "Keep Running"
For the third question, Wang Yanlin is asked who his relationship is the best among the cast members. Wang Yanlin actually chooses Lucas. Zheng Kai gets mad and starts to trigger the punishments on Wang Yanlin. Zhu Yawen is also upset and says, "Out of this group, I knew you the earliest."
Zheng Kai and Zuo Chao
Zheng Kai Reportedly in New Relationship with Vivi Miao After Being Spotted Together in Singapore
It's Zheng Kai and Zuo Chao's turn. Before the questioning starts, Zheng Kai is already the butt of jokes. The director tells Zheng Kai to sit higher as they're afraid the punishing whip won't reach his face due to his height. Zheng Kai says he's already sitting the highest. Li Chen then brings over three pillows for him to sit on so he reaches the whip. For the first question, Zheng Kai is asked if he invited Zuo Chao to the show because is a good friend or is it because he couldn't invite anyone else. Zheng Kai says he invited him because he is a good friend, but he gets electrocuted anyways because Wang Yanlin and Lucas took the remote to control the whip.
Huang Xiaoming and Angelababy Respond to Divorce Rumors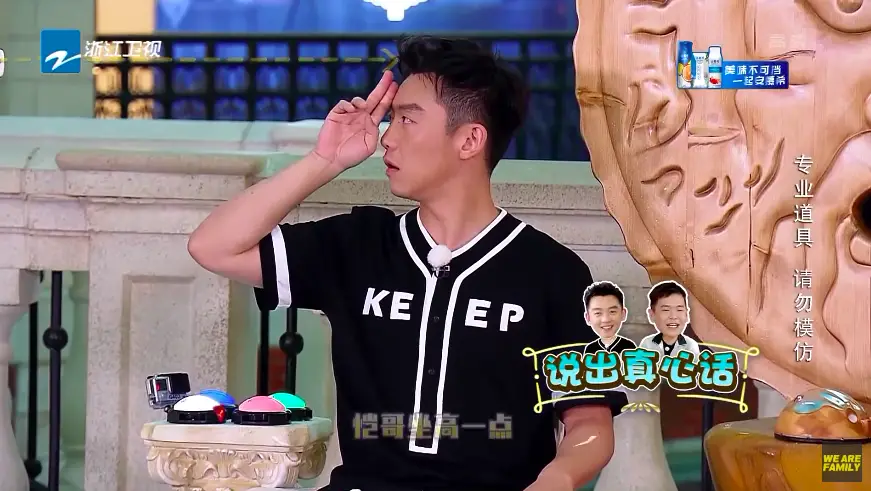 Lucas and Qian Kun
Qian Kun is asked if there were any changes within WayV after Lucas joined "Keep Running." Qian Kun gives a very textbook response and says, "Everyone was happy for him." Song Yuqi and Angelababy add, "But…" Qian Kun says, "There is no "but", because later on everyone will have a chance to develop on their own. So there won't be any jealousy." Qian Kun still gets zapped.
Netizens Dig Up Past on WayV Member, Lucas
Lucas is then asked if he thinks he's more outstanding than Qian Kun and if so, in what areas. Lucas then says, "Zap me then!" Qian Kun is asked the same question. He is thinking about it and Angelababy says, "At the very least, your Mandarin is better than his." Qian Kun agree and says, "Yes, when he can't express himself I can help him." Then Qian Kun is asked who is the better dancer. Qian Kun says, "It's Lucas without a doubt." Lucas then says Qian Kun is the better singer.
WayV's Qian Kun Surprised When He Discovers the "Fan" that Received His Specially Autographed Album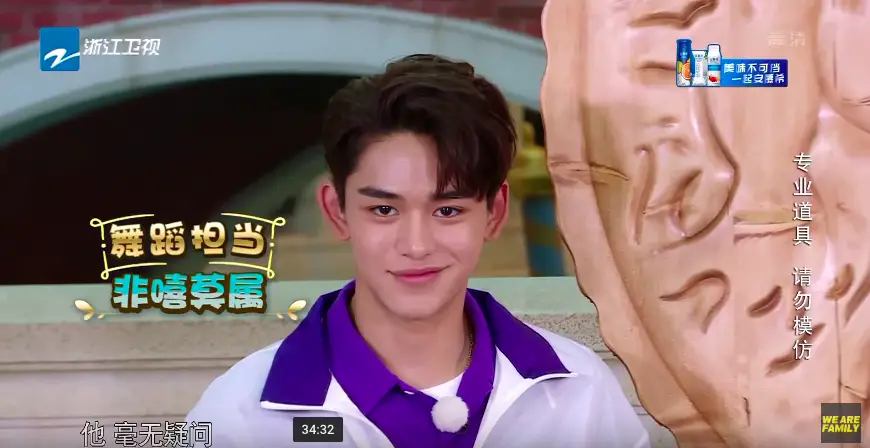 Next, Qian Kun is asked which cast member Lucas mentioned the most to the group. Qian Kun says, "It's Brother Yanlin." Lucas then tells the director to ask more exaggerated questions. Ask and you shall receive, Lucas is asked which member he would choose to leave the show. He chooses Song Yuqi and explains, "I want to switch to another long term female partner." Zhu Yawen and Li Chen poke fun at him and says he wants to switch it with his girlfriend and someone he likes to go on the show. Lucas responds, "No, I just want to change the feeling. She's like a younger brother. There's no…" Before he could finish, Shen Jiani finishes it off, "No feelings of being a woman." Lucas explains himself and says, "No, it's just that we are real friends so there is nothing." Song Yuqi then asks him, "And you still want to replace me?"
Song Yuqi and Yan An
Yan An is asked whether Song Yuqi is more suitable to be a lover or a friend. Yan An explains as every male and reiterates not from his perspective, that Song Yuqi would be more suitable as a lover. Wang Yanlin then says, "She is suitable to be a brother." Song Yuqi says shes happy at Yan An's response. She is then asked which cast member she would want to replace. She quickly says Lucas and explains she also wants to find a male partner that is more like a man. Lucas then gets and says, "Don't I look like a man?" Song Yuqi then says, "You're a scallop!"
PENTAGON Member, Yan An, Wants to Resume Group Activities, but Says CUBE Hasn't Responded to His Pleas