It was a star studded cast in the fifth week of "Keep Running" (奔跑吧) as three consorts from "Story of Yanxi Palace" (延禧攻略) guested on the show: Charmaine Sheh (佘詩曼), Wu Jinyan (吳謹言), and Zhang Jiani (張嘉倪). As this week's episode was located in Foshan in Guandong province, hilarity ensued when the members were paired up to recite scenes in Cantonese.
Charmaine Sheh Explains Why She Rejected Marrying into Wealthy Family and Refuses to Go on Dating Shows
There was a segment where they had to catch a "pig's hoof cushion" hanging above the mud swamp, which contains the product that will release the prisoners assigned to each group. Charmaine Sheh was paired up with Li Chen (李晨). She let go of her "Empress" image as she, Wu Jinyan, and Lucas pushed Wang Yanlin (王彥霖) into the mud. In order to secure the product, Charmaine Sheh smushed Wang Yanlin's head into the mud, while Wu Jinyan and Lucas held him down. The usually strong Wang Yanlin couldn't move and finally said, "I give it to Charmaine! I give it to Charmaine!" to beg for mercy.
Charmaine Sheh Comes Out with Own Brand of Lipsticks
After the show aired, the topic "Charmaine Sheh putting Wang Yanlin in the mud" was trending. Fans left comments such as "Consort Xian" is revived. Before the show aired, Charmaine Sheh also uploaded memes of her shoving Wang Yanlin's head into the mud. She included the caption, "You better not bully me, or else I'll push your head like below!"
Charmaine Sheh Reveals She Has Dated Over Ten Boyfriends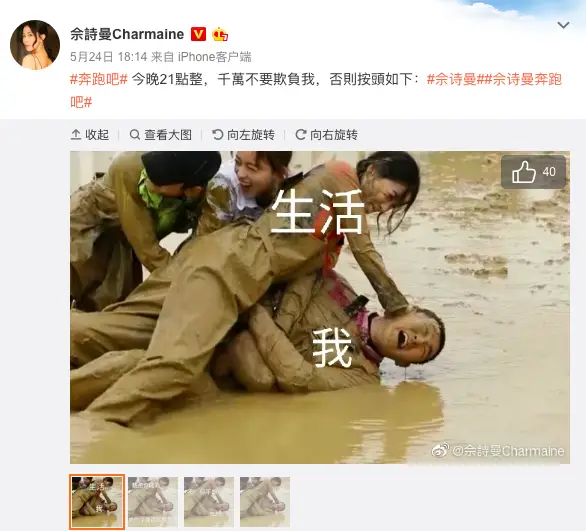 Credit: hk01.com, Charmaine Sheh Weibo