It's time for the Chinese internet to explode again as Fan Bingbing (范冰冰) and Li Chen (李晨) have announced their break up on June 27. Chinese netizens were just recovering from Song Joong Ki and Song Hye Kyo's divorce news earlier today and now they have to endure another breakup of China's once beloved celebrity couple.
Fan Bingbing Claps Back at Netizens After Ridiculing Outfit She Wore at a Fashion Show
Li Chen Rumored to be Dating Singaporean Heiress
Cast Members Get Candid in "Keep Running" Season 3 Finale
Fan Bingbing announced the news on Weibo around 8:24 PM (local China time) saying:
"There might be a few types of farewell you experience in a lifetime. During our encounter, the love and warmth we harvested has turned into eternal energy. Thankful for what you've always given to me all along, support and love. Thankful for the care and love that will continue in the future. We are no longer us. We are still us."
Fan Bingbing and Li Chen Reunited After Announcing Break Up 3 Days Later
Li Chen immediately replied to her post saying:
"From friends to lovers, back to being friends. The way we express our feelings will change, but the purest feelings between you and I won't change. The trust and support we have for each other is eternal. We are no longer us. We are still us."
Fan Bingbing Appears in Public Since Admitting to Tax Scandal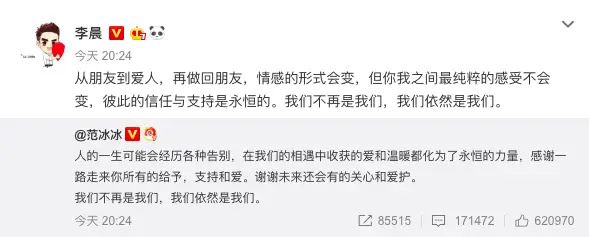 Fan Bingbing Finally Admits to Tax Evasion Scandal, Posts Formal Apology Letter on Weibo
The two announced they were dating on May 20, 2015. Li Chen proposed to Fan Bingbing on her birthday party in 2017. They had originally planned to get married in a lavish wedding during the second half of 2018. However, because of Fan Bingbing's tax evasion scandal in May 2018, all those plans were put on hold. It wasn't until September 2018 that Fan Bingbing admitted to the scandal. Throughout her tax evasion scandal, Li Chen had remained quiet, probably due to the circumstances. There were even rumors of break up until a close friend of theirs debunked the rumor and said the two had celebrated her birthday last year. It wasn't until October 2018 when Fan Bingbing was "freed" that Li Chen publicly made a statement saying, "No matter how hard, we will go through the hardships together."
Friend Proves Fan Bingbing and Li Chen are Still Together
The news has come as a shock as there were reports of Li Chen and Fan Bingbing out and about. During this year' Lunar New Year, Li Chen was even seen picking up Fan Bingbing's younger brother, Fan Chengcheng, from the Beijing airport. Li Chen was also present at the opening ceremony of Fan Bingbing's new beauty salon back in March. Who would've thought this relationship would take such a different turn in a matter of 3 months.
Credit: ETtoday.net, Weibo (1, 2)