Everyone is still trying to process the untimely death of Godfrey Gao (高以翔), who passed away in the early hours of November 27th during filming for a Chinese variety show, "Chase Me". There are conflicting sequence of events that led to his death from eyewitness accounts and the "Chase Me" production team. Everyone in the entertainment industry and those close to Godfrey Gao are mourning his death.
Godfrey Gao Passes Away at Age 35 while Filming Variety Show "Chase Me"
Godfrey Gao's good friend and former professional basketball player, James Mao mourns his death on IG. He was supposed to be a groomsmen at James Mao's wedding on November 29.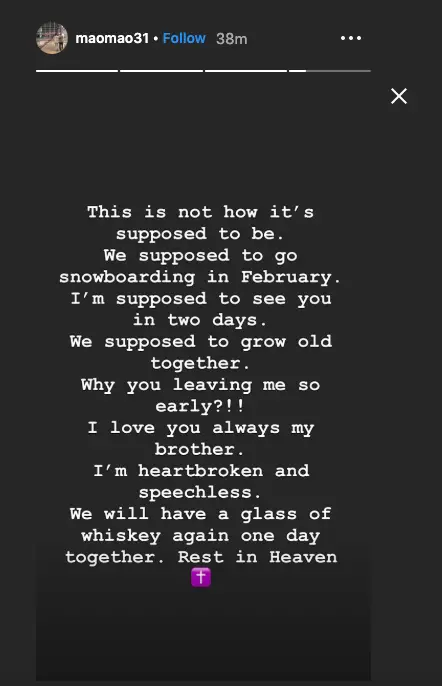 Qin Lan Shares Her Impression of Upcoming Co-Star, Godfrey Gao
Aarif Rahman (李治廷)
"In 2010, we walked the red carpet together at an awards ceremony overseas. We talked about exercising and life in the car. That memory was very impressionable. I never thought you would suddenly leave us. May you rest in peace. Hope your family can bravely overcome this sorrow."

Qin Lan (秦岚), co-star from "We Are All Alone"
"Bumped into each other at an event two days ago. Asked me if I was thirsty and especially went to get water for me. Such a gentleman, such an animal lover, a person who loves life and to live so much. Slow to warm up and shy, but the day we wrapped up filming, you hugged every staff member. You, who promised to take me to eat Taiwan's delicious food. You, who was so enthusiastic mentioning the movie you were about to film when we were in Paris. You, forever so professional, good to work with, taking care of everyone. Such a good person…Rest in peace."

Jiao Junyan (焦俊艳), co-star from "Remembering Lichuan" (遇见王沥川)
"In 2012, we were filming "Remembering Lichuan". I met a very humble and shy you, who didn't like to talk, always pouting. Occasionally saying harsh words with a Taiwanese accent and also with a soft tone. When we were filming on the bus, we had to find a spacious place for you or else we couldn't fit your big long legs. There was a scene where I secretly kissed you when you turned around, I made a blooper because I couldn't reach your face. During one of the mornings we were filming in Kunming, you said you didn't eat breakfast. I gave you a sugar pyramid bun. You took a bite and the sugar leaked out. It was only when the sugar practically leaked all over his clothes did he slowly and gently say to his assistant: 'Tissue'. Because you brought 'Wang Lichuan' to life, I only then believed I was 'Xie Xiaoqiu'. Very fortunate to have completed this outstanding piece of work with you. Very fortunate to have met such a gentle and cute person. It's just like when 'Xiaoqiu' thought 'Lichuan' never left. He is only living well in another city. Yixiang (Godfrey's Chinese name) classmate, in another world, you must continue being your slow tempered self."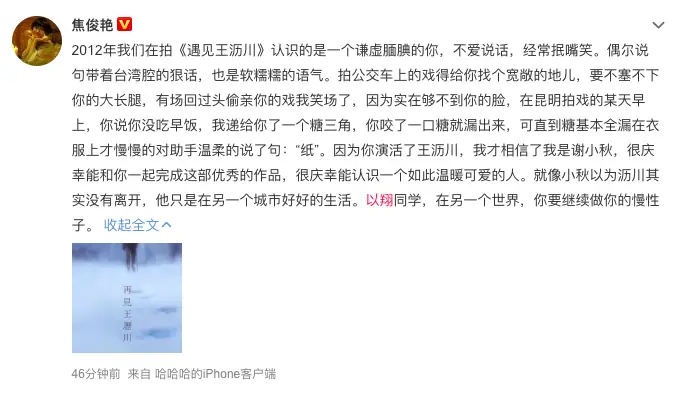 Xu Zheng (徐峥), Chinese actor and director
"So sad!" Such a perfect person! All young people working outside must first protect yourself well. Must not risk your life! The show's awareness of safety and prevention measures is seriously poor. They must take responsibility!"

"We Are All Alone" Cast and Production Crew
"When we received the confirmed news this morning, all of us were senseless. The working crew were also on the phone. No one could say a word. Then someone started crying. All of us can't forget. On that day in May, when we were doing the table read in the conference room, Yixiang was already there very early. He was sitting quietly in a corner, waiting for everyone to come. The first time seeing Yixiang, everyone thought he would be a very serious person. Later when we were shooting for the posters, there was a girl who couldn't hold it in anymore and said to him in English, 'Yixiang, You are so handsome.' He shyly smiled in front of the camera.

Often times we could call him 'Yixiang Laoshi' (Yixiang Teacher) on set.

Yixiang Laoshi is punctual, serious, dedicated. Never heard him complain about work being exhausting. He is always very accommodating to all his work. He is very gentle to everyone and never had a temper. He has very strict standards about his own performance. Even though he says he tends to slowly recite the long legal and professional lines and drag everybody with him, but actually there are often times where he just recites those long and lines really quickly. Then his assistant would proudly say to the director, "We recited it properly." He has very strict standards about his own work. He never bothers anyone from the crew. He demands a lot from himself, that is his work ethic.

Yixiang Laoshi is introverted and shy, gentle and nice, considerate and attentive. Even though he doesn't say much on set, but he would often buy drinks for crew members. Crew members also like buying drinks and sandwiches for him. He really likes coffee. He would hand grind coffee for everyone when there is a break on set. When filming was nearly completed, the cast would be at the hotel doing interviews. A staff member who always stayed behind at the hotel purposely came to see him. He asked everyone, 'Want group pictures?' Then he would initiate how we should be standing. He accommodated everyone's height. At the wrap up party, he brought canvas bags from his own clothing brand he started and personally gave one to each cast and staff member present. He was smiling while hugging everyone. He made everyone feel like a spring breeze. That's the gentleman like manners he uses to treat people.

We interacted with him over 100 days and created this product together. He invested hard work, invested effort. On this summer day, he seriously and perfectly completed 'Mo Bei's' performance. We will not let him down. We will take this product and make it even better. Allow everyone to see how good 'Mo Bei' is, how Yixiang Laoshi is so outstanding."

– "We Are All Alone" Entire Cast and Production Crew
Lin Chiling (林志玲), co-star from "Say Yes" (101 Proposals)
"So sad…
Your sincerity
Your hard work
Your modesty
Your non-confrontational attitude
Your good
Your good that you don't know about
Can't believe this is real
But you still spread your wings
Dear Yixiang
Have a safe journey"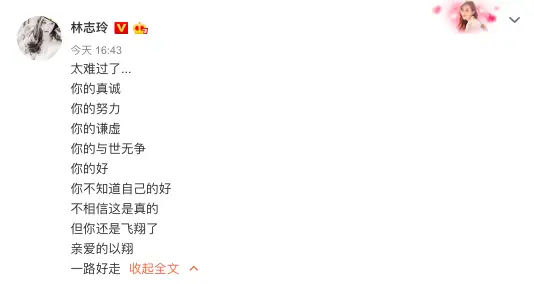 Farewell, Godfrey