Everyone was going crazy over actress, Xing En (邢恩), for her character as "Mo Ruofei"(莫若菲) in last year's, "I Will Never Let You Go" (小女花不棄). The reason is largely due to her androgynous looks. In the series she played a male character, but it wasn't revealed until the end that she was really a female.
Fan Girls are Swooning Over Xing En Instead of Vin Zhang in "I Will Never Let You Go"
A few months ago, the crew announced they would be filming a sister series to "I Will Never Let You Go", tentatively called "Nichang" (小女霓裳), which is also based on a novel. Xing En will also be in the series. Based on the character stills released on March 16, it looks like Xing En (邢恩) will be dressing up as male again. Her character's name is "Xie Feng" (谢枫). Could she be cross dressing as male again?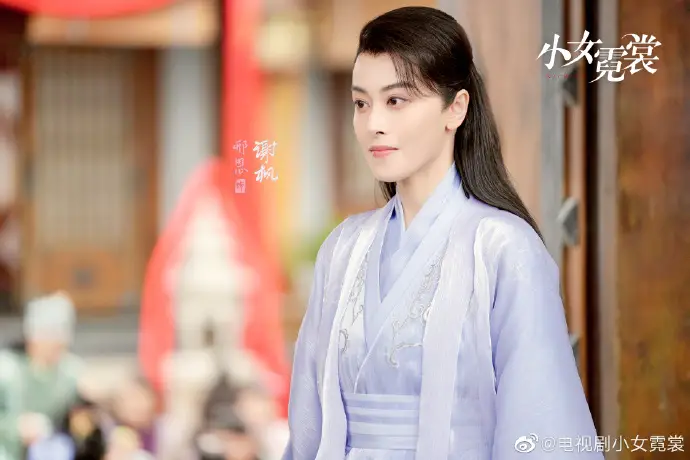 Like its predecessor, the series focuses on a damsel in distress and being chased after by evil people. The series stars Li Jiaqi (厉嘉琪) as the female lead, "Xie Xiaoni" (谢小霓). She is the youngest daughter of the Xie family and wants to inherit and continue the legacy of the family's silk cloth business. However, the Xie family is framed by their rival, the Su family, leading the family to be killed. Luckily, "Xie Xiaoni" survives, vows to clear the Xie family's name and revives their business. In order to do so, she enters an academy to learn clothes dying and embroidery skills under the pseudonym, "Nichang".
Li Jiaqi as "Xie Xiaoni"
After years of training, she gets a footing in the industry and makes a name for herself. The Su family finds out about her intentions and starts hunting her down to kill her. Luckily, "Ouyang Ziyu" (欧阳子虞), played by Bi Wenjun (毕雯珺), has always been in love with her and helps her escape. A year later, "Xie Xiaoni" returns under a new name and brings back her newly learned skills. This time she is fully prepared and finally avenges her family's death and reputation. She also successfully creates a new path to doing business and becomes a successful businesswoman.
Bi Wenjun and Zhu Zhengting Announced as Leads in "The Silence of the Monster"
Bi Wenjun as "Ouyang Ziyu"